GTA 5 PC Beta Keys Surface Online via Fake Test Emails
Trend Micro cautions prospective GTA 5 PC gamers against opening fake beta tester email invites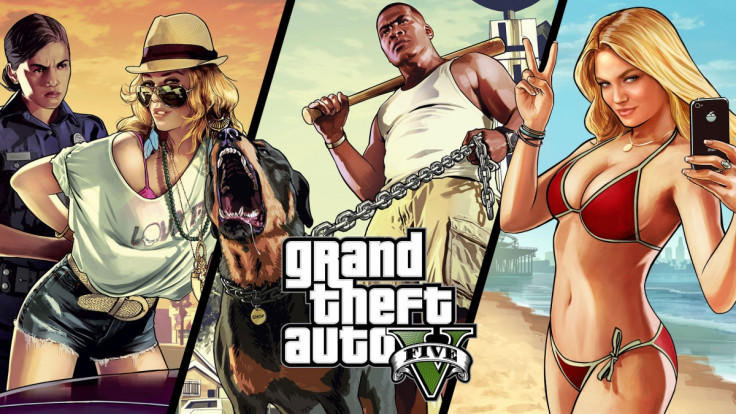 Rockstar Games is yet to confirm an official PC release for GTA 5, while hackers and cyber-criminals are allegedly capitalising on the situation by sending fake emails with GTA 5 PC beta test keys to prey on unsuspecting fans of the game.
According to the email, the unsuspecting reader is misled into believing it to be an invite for beta testing the GTA 5 PC version using the accompanied activation keys in the attachment.
Consequently, security software company Trend Micro has cautioned prospective GTA 5 PC gamers to avoid downloading or opening such emails as it has detected potentially dangerous malware known as "TROJ_FORUCON" within the email attachment.
Here is what Trend Micro explains on its website regarding the GTA 5 PC Beta spam (check the screenshot of email below):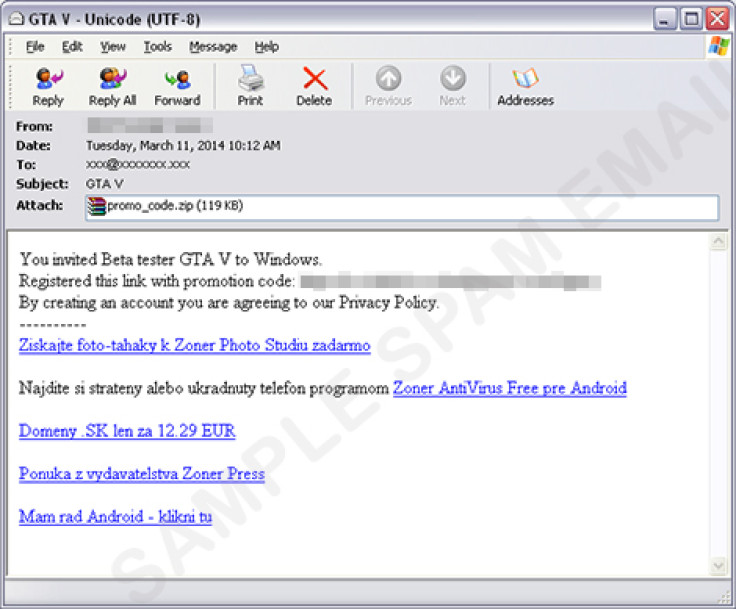 "We recently found spammed messages that pretend as an invitation for beta testing the popular game, Grand Auto Theft V on Windows platform.
"It bore the subject, GTA V and informed users about a promotion code that they need to access by clicking the URL. It has .ZIP file attachment (promo_code.zip), which actually contains a malware detected by Trend Micro as TROJ_FORUCON."

It is ascertained that the spammers have clearly failed in their attempt as the email is filled with grammatical errors ("you invited Beta tester GTA 5 to Windows") without any viable screenshots to flaunt the legitimacy of their work.
The bottom half of the email is filled with random links with text written in several Eastern European languages. Trend Micro points out that similar email spam incidents occurred earlier with popular games like World of Warcraft and Grand Theft Auto 4.
Highlighting the motive of cyber-criminals behind such malware attacks through spammed emails, Trend Micro had this to say:
"Clearly, the worldwide success of these games makes it a good social engineering lure to trick users. In this specific case, spammers capitalized on the much-anticipated release date of Grand Theft Auto V on PC, Xbox One, and PS4. We highly advised users to verify first the validity of email messages they received pertaining to any game beta testing as this may possibly lead to system infection or even information theft."
Prospective GTA 5 PC Gamers are advised to follow Rockstar's official website and its social media pages to keep a tab on the legitimacy of beta releases as well as the final public release. A beta release from the game developer will always be accompanied by an official announcement via Rockstar Newswire.
Though several game retailer websites have been repeatedly speculating about the GTA 5 release for PC, Xbox One and PS4, Rockstar has been silent until now. However, the game developer recently hinted that GTA 5 will be ready for PC when the quality of the game meets the standards and expectations of its fans.
© Copyright IBTimes 2023. All rights reserved.