Ahead of The Flash's two-episode event entitled Attack on Gorilla City in just a few days time, The CW network has released an epic extended trailer and an accompanying poster to get audiences psyched for the return of Barry Allen's old enemy Grodd. And of course, it features plenty of great one-liners from constant comic-relief Cisco...
While the trailer makes it seem like Flash will go up against the ape-like supervillain with mind-control powers, the episode's official synopsis suggests a slightly different story. It details how Barry (Grant Gustin), Cisco (Carlos Valdes), Caitlin (Danielle Panabaker) and Julian (Tom Felton) journey to Gorilla City on Earth-2 following Jesse Quick's message that her father Harry (Tom Cavanagh) has been taken by Grodd.
However, soon after they arrive, the gang discover that Grodd is after help when it comes to taking down Solovar, the benevolent leader of Gorilla City, who apparently wants to invade Earth-1. Meanwhile, back in Central City, Jesse (Violett Beane) and Wally aka Kid Flash (Keiynan Lonsdale) team up to stop a metahuman that can control gravity.
Grodd was exiled to Gorilla City, a scientific utopia populated by super-intelligent (and mostly good) gorillas, back in season two. Interestingly, Solovar is actually an ally of Barry (and later Wally West) in DC Comics, so fans of the source material will likely go into the episodes doubting Grodd's allegations and intentions.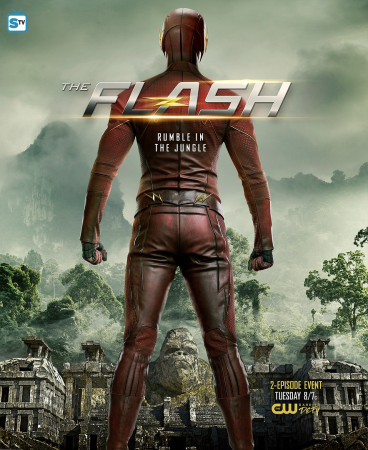 Then again, the show has taken a sympathetic approach in its portrayal of Grodd before, making viewers feel sorry for him in regards to how Harrison Wells (also, Tom Cavanagh) used to treat him, so anything can happen!
Attack on Gorilla City will air its first instalment on The CW on 21 February, and the second on the 28th. Alternatively, for UK viewers, the double-bill will begin on Sky 1 on the 28th and conclude during the show's 14th episode broadcast on 7 March.
For more entertainment news follow A-List on Twitter @Alistinsider