Flights at London City Airport were disrupted this morning (6 September) after a group of demonstrators occupied the runway.
Police were called to the airport at 5.40am after a group of protesters gained access to the tarmac.
Initial reports suggested that they were from environmental group Plane Stupid, however protest group Black Lives Matter UK claimed responsibility in a tweet.
"Whilst at London City Airport a small elite is able to fly, in 2016 alone 3,176 migrants are known to have died or gone missing in the Mediterranean. Black people are the first to die, not the first to fly, in this racist climate crisis. We note, however, that the UK is willing to charter special flights to remove black people from the country based on their immigration status," said the group in a statement.
The group added: "This action was taken in order to highlight the UK's environmental impact on the lives of black people locally and globally. As the largest per capita contributor to global temperature change, and yet among the least vulnerable to its deadly effects, the UK leads in ensuring that our climate crisis is a racist crisis."
Flights to Zurich, Geneva, Guernsey and Zurich were cancelled, while flights which were due to arrive at the airport from Rotterdam, Luxembourg, New York and Frankfurt were diverted, according to the airport's website.
An employee at the airport who wished to remain anonymous told IBTimes UK that the protest had caused chaos, with travellers "pissed off" as a result of the delays and cancellations and staff "going nuts."
The employee said that at least nine demonstrators were involved in the protests, and had brought pizzas with them, suggesting they expected a long stand off with police.
The protesters gained access to the airport using a boat to sail across the Royal Docks, according to reports.
A witness told the London Evening Standard: "They got on to the runway using a rubber dinghy from the dock.
"They are on the runway surrounded by police. I'm not sure if they are chained together but they are huddled together."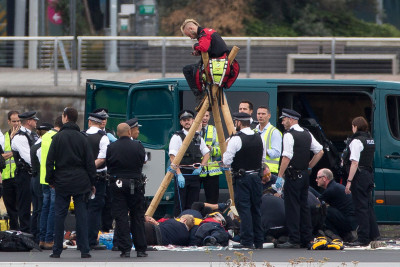 The Met Police said officers had arrested seven protesters.
In August, protesters from Black Lives Matter UK blocked a road leading to London's Heathrow Airport, causing travel chaos. Protests were also held in Nottingham and Birmingham.
The movement originated in the US to protest against the killing of black people by police officers.
The airport said all flights in and out of the airport had been disrupted. A London City Airport spokesperson added: "The runway is currently closed due to protesters on site. We apologise to passengers for any inconvenience to their journey."