Security camera manufacturer Flir Systems has released a new thermal camera that consumers can clip onto their smartphones in order to detect heat signatures.
The second-generation Flir One thermal camera is now available for iPhones and iPads, with the Android version launching in July, as a standalone accessory that clips onto your smartphone using either microUSB for Android or a Lightning connector for iOS.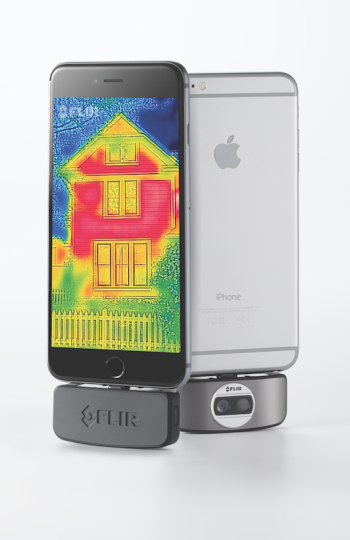 The Flir One was originally designed for security contractors, emergency services and the military, but the new version is designed to be simple for everyday consumers to use.
But why would you need to use a thermal camera? Flir suggests that you could use it to monitor your home in order to make sure there are no warm or cold air leaks that might be costing you extra money in heating. Builders might also find the tool useful in locating pipes behind drywall.
Or if you favour hunting or outdoor exploring, a thermal camera could be useful for scouting terrain at dusk and in the dead of night. People who believe in the paranormal also tend to use thermal cameras for ghost hunting, so you could have a go yourself.
Thermal imaging used to be a very expensive technology, running into thousands of dollars, which explains why it was mostly only used by law enforcement, but the Flir One is much cheaper, retailing at $249.99 (£158.85).
Flir Systems has also updated its existing iOS software development kit (SDK) and added one for Android too, enabling developers to build apps that work with the accessory.
"Last year, we successfully introduced the world to the Flir One, the world's first thermal imaging accessory for a smartphone. This next-generation Flir One builds on this success by offering higher performance, broader compatibility and a compelling value proposition," said Andy Teich, president and CEO of Flir systems.
"And with the launch of our new application developer support programs, we expect to see new applications and use cases emerge for this new Flir One platform."