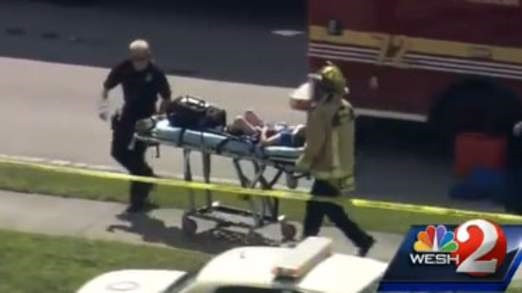 Fifteen people, at least eleven of them children, have been injured after a car crashed into a Florida day care centre.
The children at the KinderCare building in Orlando are said to have suffered serious injuries.
According to police reports a silver / grey Dodge Durango crashed into a vehicle that then hit the childcare centre. The driver of the Durango then fled the scene.
Several children have been carried out on stretchers while parents could be seen waiting to pick up their children.
Very young children and infants in cots have been removed from the building and gathered outside in the playground.
Florida Highway Patrol spokeswoman Wanda Diaz said: "This is a very fluid situation and we need as much as help as possible."
She added that the injured children are in a "very, very serious" condition. 13 people have been taken to hospital.
Jeezy Jenkins, who was repairing the roof of the petrol station next door, said he saw several small children lying, seriously injured, on the ground inside the building. One child was reportedly pinned by the vehicle.
"The ones that I did see, I seen blood come out of their mouths, their mouths hit something or whenever because they were bleeding out of their mouths and there was other ones that weren't moving at all, and the teachers were giving them CPR and stuff like that," he said.
Police named 26-year-old Robert Corchado as a person of interest they were searching for following the collision and warned he might be attempting to fly out of the state.
The Orlando Sentinel reported a witness as saying the car disappeared inside the day care centre before the driver emerged, unhurt but visibly shaken.
Orange County Mayor Teresa Jacobs called the crash an "absolute tragedy and disaster".
The day care's website says the centre provides childcare and learning opportunities for children aged six weeks to 12 years old for 25 years.