A naked man was shot dead after eating an 18-year-old's face and assaulting a retired policeman, the Pam Beach Post reported.
The man, who possessed what authorities described as a superhuman-like strength, died Tuesday night during a confrontation with deputies near Delray Beach, Palm Beach County Sheriff Ric Bradshaw said.
The naked man, who had previously assaulted the retired officer who reported serious injuries, attacked the 18-year-old boy near South Military Trail, north of Lake Ida Road.
The teen attempted to defend himself with a box cutter knife. The victim sustained serious injuries during the fight and was taken to Delray Medical Centre. Deputies arriving on the scene tried to calm the attacker and attempted, unsuccessfully, to subdue him with a Taser.
"He's obviously delirious on something," Bradshaw said. "He is a huge guy. He takes a fighting stance. They're trying to get him on the ground. He starts charging them. The Taser did not affect him," Bradshaw explained.
At that point, a sheriff's sergeant fired three shots, one to the torso and two the lower part of the man's body. The man was rushed to Delray Medical where he died.
"We don't know right now if he's expired from the gunshots, or if he's expired because of obviously he's on some type of drugs that have made him act like this," Bradshaw said.
"There's no way to know if those are the shots that actually killed him, or if he's died from what they called exited delirium. He's obviously on some type of narcotics to make him act like this," Bradshaw continued.
Neither the names of the deceased man nor of the assault victims were released late Tuesday.
The motiv behind the assaults is still unknown.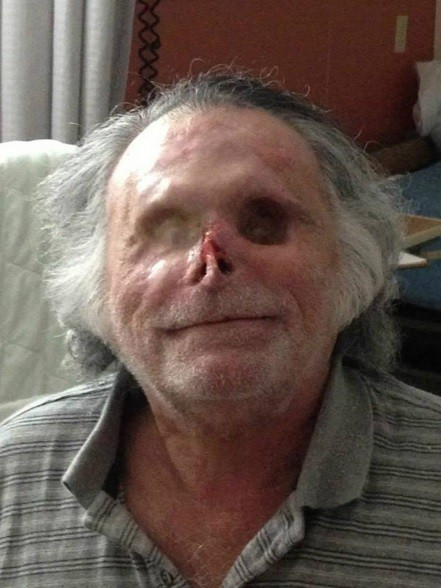 A similar case of 'face-eating' occurred in December 2012 when Rudy Eugene, renamed Miami Cannibal, ate the face of homeless Ronald Poppo in Florida.
Poppo underwent intensive medical treatment as 80 per cent of his face was eaten by Eugene as he was under the influence of drugs.
Eugene was shot dead by the police following the attack.
Initial tests revealed that Eugene had a number of undigested pills in his stomach, according to the Miami Herald. Marijuana was also in Eugene's system at the time of the attack.