A Florida woman was forced to make a frantic phone call to 911 on 1 June when she suddenly found herself stuck in her car with trouble breathing.
"I can't breathe. I can't get out of my car," 28-year-old Sheena Easterday told 911 respondents. The St Petersburg retail store manage was driving through a thunderstorm on Monday (1 June) when her car was struck by a bright, white flash, ABC News reported.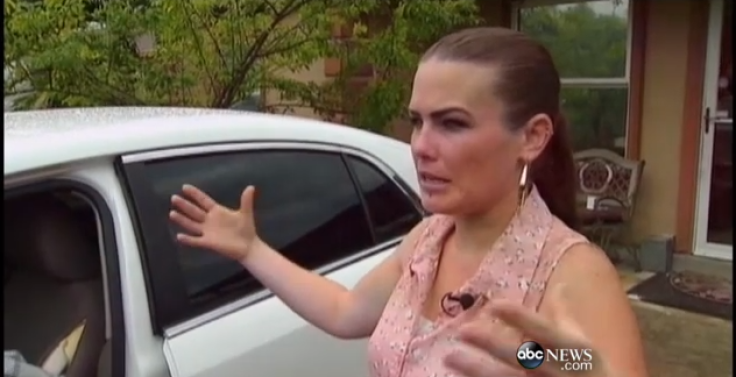 The vehicle's airbags deployed, with the car shutting down in the centre lane of Interstate 4. The recently purchased 2012 Chevy Malibu, which had power locks, confined Easterday inside.
"I was doing 45 and all of a sudden my airbags just went off. I don't know if my car got hit by lightning; I don't know what happened," she's heard in the 911 call to Polk County Sheriff's Department.
Easterday, who suffered minor injuries, was "in a lot of pain last night," her 60-year-old father Tim told ABC News. The elder Easterday also has painful experience with lightning. He was reportedly struck by lightning around 40 years ago at Madeira Beach, Florida. His brother was also struck by lightning, the man said.
"I'm just glad the kids weren't with her," Tim Easterday said of his grandchildren. "It hit right where they sit. My God. You can see a burn right on top of the roof where it hit. Her car seats sit right there."
Easterday said he "didn't think lightning could hit a car". However, physics professor Joe Dwyer of the University of New Hampshire's Space Science Center told ABC News the incident is not uncommon.
"The reason that cars are a relatively safe place to be when lightning strikes is most of the current flows around the metal body of the car and not inside it," Dwyer said. "Contrary to popular belief, the tires offer almost no protection, since lightning can easily spark across the las few inches of air to reach the ground."
According to Easterday, the vehicle is totaled, with several burn marks and a shattered back window. Tim Easterday said his daughter had just made her first car payment.