'Floyd Mayweather is pretty much a dirtbag' says Conor McGregor's coach as fight talk intensifies
John Kavanagh says McGregor vs Mayweather fight could happen at the end of the summer.
Conor McGregor's coach John Kavanagh has attacked Floyd Mayweather's character as talks of a showdown between the two fighters intensify.
The Ultimate Fighting Championship (UFC) star has been pining for a mega-money fight with the undefeated former five-division boxing champion since the end of last year and could get his wish after Mayweather confirmed he will come out of retirement to face the UFC lightweight champion.
UFC president Dana White, who was against the fight initially, has softened his stance and recently revealed he would help make the fight happen. Kavanagh, who will be in McGregor's corner, expects the fight to happen at the end of the summer.
While the Irishman's coach is in awe of the American boxer's ability, he absolutely despises Mayweather as a human being and went on to label him a "dirtbag" owing to his previous run-in with the law for domestic battery and physical abuse.
Mayweather received a 90-day prison sentence and spent two months at the Clark County detention centre for misdemeanour battery against Josie Harris with whom he has three children. In 2014, the now retired five-division boxing champion was sued by the sons of former heavyweight champion Hasim Rahman alleging battery, tortuous assault and false imprisonment among other things.
"I do think Floyd Mayweather is pretty much a dirtbag," Kavanagh was quoted as saying by Boxing Scene. "He's beat up his girlfriends. I've watched (vision from) 'The Dog House' (Mayweather's boxing gym), he just strikes me of a real bully-type character, he makes these guys fight each other endless rounds until one is badly hurt. He's just not a good individual."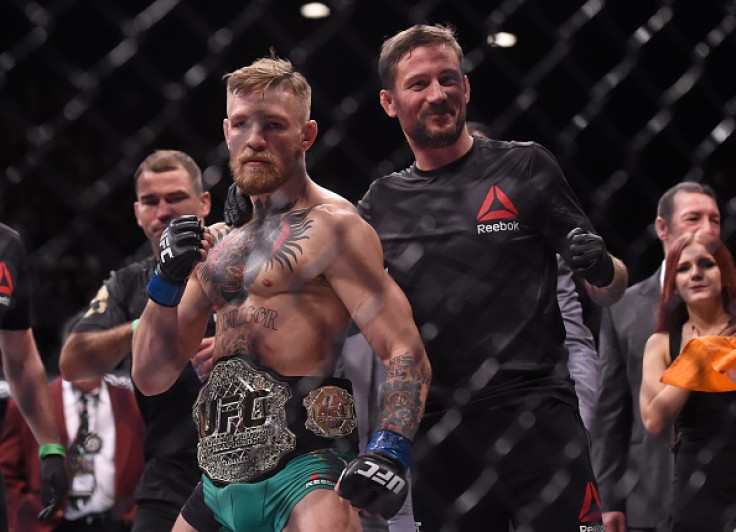 "That's his personality. Technically obviously he's a very, very sound boxer and his father was a great boxer. Actually his dad says he's going to knock me out for some reason I don't know why. I'm a fan of all his skills but as a human being the way he runs his gym, the way he carries himself — I mean it is a little bit of an exchange of styles like that so we'll see what happens," McGregor's coach added.
© Copyright IBTimes 2023. All rights reserved.