Red Bull Racing driver Mark Webber and Sauber-Ferrari's Esteban Gutierrez have been hit with five-place grid penalties for the 2013 Formula 1 Bahrain Grand Prix, on 21 April. The Australian and the Mexican were punished, retrospectively, by stewards at Sunday's Chinese Grand Prix, for their involvement in two separate incidents.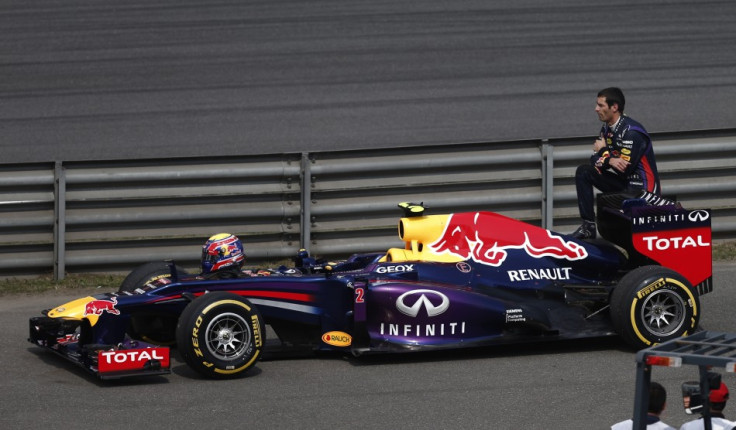 Webber, for whom this penalty caps a miserable race weekend at the Shanghai International Circuit, was deemed to be at fault for a collision on the 15th lap, with Toro Rosso's Jean-Eric Vergne. Gutierrez, meanwhile, was punished for his part in an accident with Force India's Adrian Sutil.
Webber - Vergne
"I was coming from a reasonable distance behind, Jean-Eric was really wide, but when we came close to the apex he wanted to hit it, which he is entitled to do, but by then I was committed to the inside and the incident happened," Webber explained after the race.
Vergne, for his part, said he had no idea Webber was coming up on the inside of the turn and said: "I think Mark could not have got through from where he tried."
Webber came to the Chinese Grand Prix with his team and team mate, Sebastian Vettel, under a cloud of controversy following the latter's disobeying of team orders in the final stages of the race at Malaysia. And to add to his troubles, the Australian was punished for fuel irregularities after Saturday's qualifying session and sent to the back of the grid, after earning a 14th place start.
Gutierrez - Sutil
Meanwhile, the incident between the Sauber and the Force India occurred on the fifth lap and in the braking zone to Turn 14. Gutierrez admitted he misjudged the distance to Sutil in front of him and said: "I approached the corner too fast. It was definitely my fault, and I apologise to Adrian and to his team."
Chinese Grand Prix
At the sharp end of the grid, though, Ferrari's Fernando Alonso registered his first win of the 2013 Formula 1 world championship, with an emphatic 10.1s win over Lotus-Renault's Kimi Raikkonen and Mercedes' Lewis Hamilton. Vettel finished fourth.
The result means Vettel, the defending world champion, has a three point lead over Raikkonen and nine over Alonso. The Red Bull Racing team lead the contractors' title race with a five point gap back to Ferrari.