The 2013 Formula 1 world championship continues this weekend, with drivers and teams readying themselves for the Chinese Grand Prix. The 5.451km long Shanghai International Circuit will play host to 2012 race winner Nico Rosberg of Mercedes and defending world champions Sebastian Vettel and Red Bull Racing, as the German looks to put the controversy of the Malaysian Grand Prix win behind him.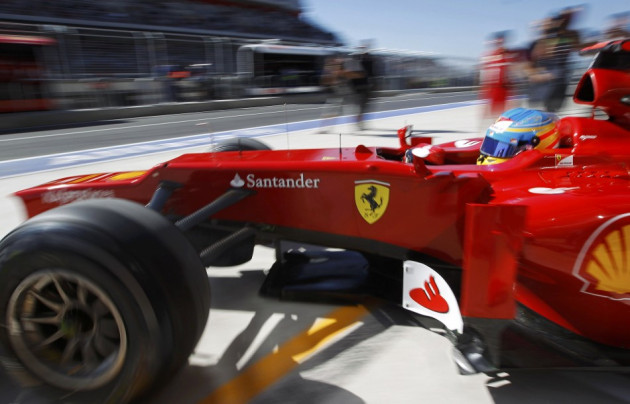 A good deal of the attention, though, will be on the scarlet cars of Ferrari. The marquee Italian team have not had the best of starts to this new campaign, a fact that will worry drivers Fernando Alonso and Felipe Massa.
Alonso, a double world champion with Renault before his move to Ferrari, made the absolute best of an underperforming car to drag the championship fight to, literally, the dying laps of the final race of the 2012 season.
A much sharper start to the season was needed to ensure a sharper challenge on Vettel and Red Bull's crowns. And judging by the performance from the first two races - at Australia and Malaysia - Ferrari may have reason to cheer.
The scarlet cars qualified in the top five for both races and were it not for an unfortunate opening lap accident for Alonso at Sepang, it is entirely possible they would have recorded top five finishes as well; Alonso was second in Australia.
However, the fact even their fastest qualifying time (Massa 1:50.587 was 0.913s slower than Vettel's pole in Australia) is still nearly a second off the Red Bull means a lot of work still needs to be done, particularly on Saturdays. The good news, though, is race pace appears quite competitive. In Australia, for example, the fastest Ferrari was Alonso's, with a time of 1:29.560, 0.320s off race winner Kimi Raikonnen of Lotus. And in Malaysia, Massa was faster of the two with only Vettel ahead of him.
"We've shown reasonable race pace and on all the tyre types we have used so far we have performed well, however we still have a way to go to be quickest in qualifying," Pat Fry, the team's technical director admitted.
"We've been concentrating on the longer runs, even if they are not as long as in the past, because this year we expect more pit stops during a race," Fry explained, adding that he expected the pace of R&D to be at least as fast as 2012.
Of course, whether that will be enough is something only time will tell. The 2012 championship car was significantly weaker than both the Red Bull and the McLaren in sunny or hot weather conditions: Alonso's charge to the title was built around a set of impressive results in mid-season, when a number of races were run in cool or rainy conditions.
Fry on China
Meanwhile, Fry also spoke on the weekend's Chinese Grand Prix. However, he was careful in his choice of words, refusing to position the team as favourites, explaining: "Shanghai is a challenging mix of different corner types and a 1.2 kilometre straight. Is it going to suit our car better than some others? It is too early to say, as there are too many unknowns."
The 2013 Formula 1 Chinese Grand Prix starts with two practice sessions on Friday, followed by a third on Saturday morning. Qualifying for the race takes place on Saturday afternoon and the race itself will be on Sunday.