Authorities have released the first picture of the man, US media say is Esteban Santiago, 26, who was allegedly arrested in connection with the shooting at Fort Lauderdale Airport that left five dead and eight injured.
However, police have yet to release any official images, and have not confirmed that the suspect matches the gunman in custody.
Police did confirm the shooter had been taken into custody "without incident" and also denied reports there was a second shooter in Terminal 1, stating the only suspect had been arrested.
Suspected shooter Santiago's relatives told the Associated Press he was receiving psychological treatment in Alaska, where he lived, following mental health issues he had suffered after returning from military service in Iraq with the National Guard around five years ago.
His aunt Maria Ruiz told NewJersey.com: "It was like he lost his mind. He said he saw things."
"We have not talked for the past three weeks," Santiago's brother Bryan Santiago told AP. "That's a bit unusual ... I'm in shock. He was a serious person ... He was a normal person."
The suspected gunman is believed to have flown into the airport from Anchorage, Alaska with a stopover in Minneapolis on Delta flight 2182, checking his gun while flying and picking it up when his flight landed in Fort Lauderdale, before opening fire in the Terminal 2 baggage claim area.
Broward County commissioner Chip LaMarca initially believed the shooter flew in on a Canadian flight, writing on Facebook: "The shooter was a passenger on a Canadian flight with a checked gun. He claimed his bag and took the gun from baggage and went into the bathroom to load it. Came out shooting people in baggage claim. There were 13 total shot, 5 dead, 8 transported to hospital."
However, Air Canada tweeted there had been no record of anyone with a checked gun on any of their flights into Fort Lauderdale, and the suspect is now confirmed as having flown in from Alaska.
Foreign Policy Canada tweeted: "#FortLauderdale suspect did not fly from Canada and was not on a Canadian flight. There is no Canadian connection."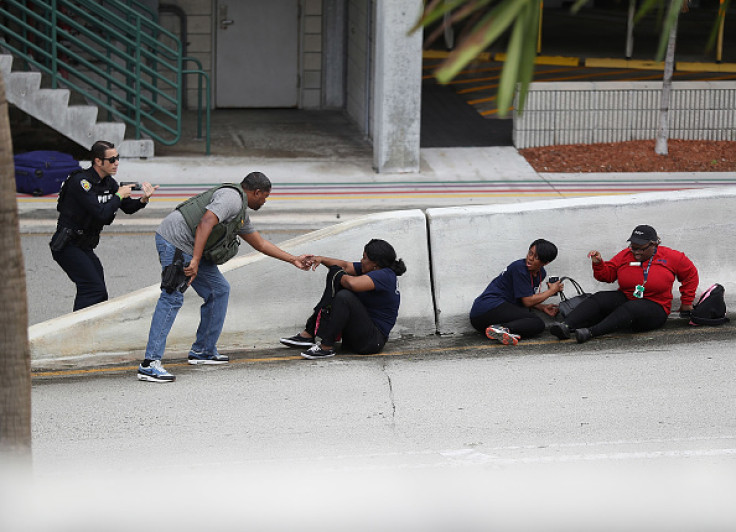 The alleged gunman was identified by Florida senator Bill Nelson as 26-year-old Esteban Santiago, in an interview with MSNBC, although authorities have yet to confirm this was the man they had arrested.
Witness John Schichler described the gunman as slender and wearing a blue Star Wars T-shirt. He said he witnessed people being "shot in the head" and that the shooter had time to reload his gun at least once.
Schichler was travelling with his wife and mother-in-law and helped tend to a man who had suffered a gun shot wound to the head, following the rampage.
Other witnesses recalled security guards shouting for people to run as they realized there was a man with a gun in the airport.
Police have not yet released the names of those killed in the shooting.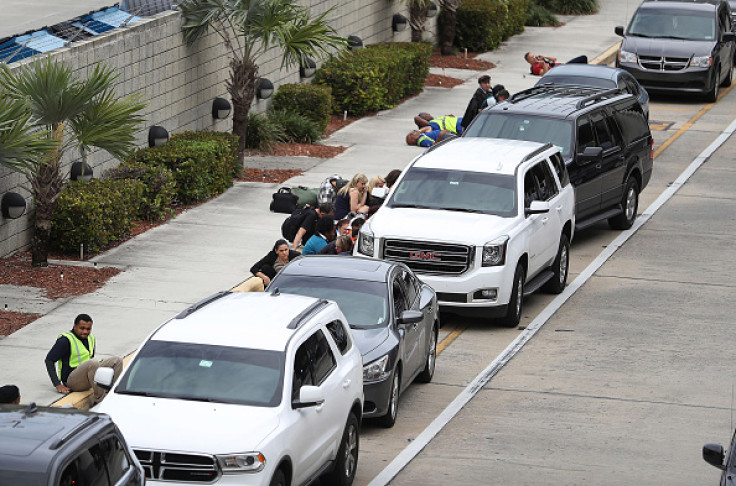 Former White House press secretary Ari Fleisher, who was in the airport at the time of the attack, tweeted to his followers: "I'm at the Ft. Lauderdale Airport. Shots have been fired. Everyone is running."
A tweet from the airport confirmed there had been an incident, but did not give further details: "There is an ongoing incident in Terminal 2, Baggage Claim. Media availability is at the staging area."
Footage and pictures from the airport show victims being treated by paramedics, while in others, people can be seen being moved onto the tarmac for their own safety or hiding behind vehicles to escape the scene.