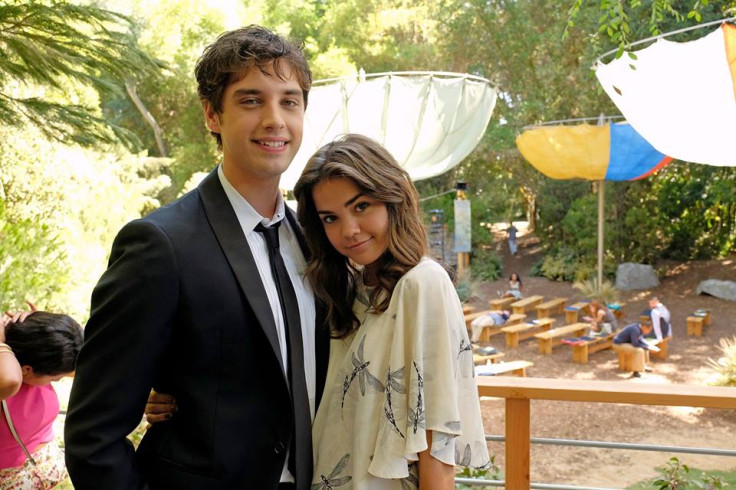 Brandon and Callie are star-crossed lovers in The Fosters season 3, and now that Callie has been officially adopted by Stef and Lena, they are both trying to move on from each other. In recent episodes, they agreed to be honest with each other about seeing other people, but it will not be easy.
Actor David Lambert (Brandon) said that the second half of season 3 will be difficult for Brandon and Callie in an interview with Just Jared. "I think it will ultimately be really tough on both of them. In the second half of season 3, we see them staying very preoccupied with other obstacles and elements that they're individually dealing with."
Fans remember that Brandon and Callie had sex in episode 9, before she was officially adopted by the Fosters family. According to Lambert, Brandon will turn to music for comfort, and to get over Callie. David said, "I think they will also have very different ways of coping with it and sort of burying the whole thing. Brandon is obviously more of an artist and I think he will find comfort in music or things along those lines. Coming up soon, we will find out his newest musical "phase" that he'll be taking on and I think what happened between him and Callie played a big part in inspiration for its themes."
When asked, who will be the most upset when the secret gets out, Lambart said, "I think it would be the biggest bomb to drop on the family, especially because it would mean that everything would have to change in terms of the household. This means that Callie would have to move out and then Jude would maybe leave as well?"
"It would be a very bad situation overall, but I think that Stef would be pretty destroyed by it because she has always been on the front line of the battle for Callie and Jude. She has formed a strong bond with Callie at this point and I don't think she would know what to do if she heard about what happened between Brandon and Callie."
In the recent episode, Brandon is charmed by Courtney. David Lambert hinted that Denyse Tontz's character will be around for a bit. "I think that Courtney will be around for a little bit. Brandon ends up taking interest in her pretty quickly and she's a more independent presence. She is also a little bit older than Brandon so I think he finds that new and refreshing."
"It's also nice because she has nothing to do with anything else in his life and that is a great escape. It is possibly a new person to confide in and it will be interesting to see how their relationship pans out," the 22-year-old actor said.
The Fosters season 3 airs on Mondays at 8pm ET/PT on Freeform.