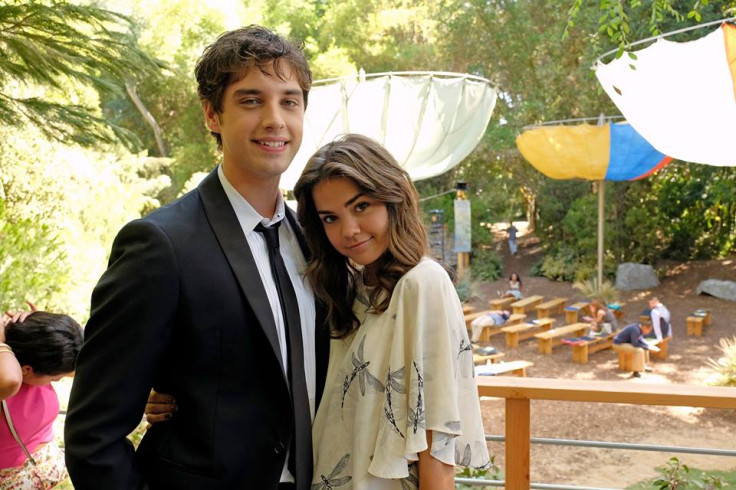 The Fosters season 3 summer finale will deal with all the drama surrounding Callie's adoption.
In the previous episode, Callie and Brandon finally gave in to the sexual tension between them and had sex. The two were alone together as they started to accept the fact that Callie was probably never going to be adopted by Stef and Lena.
In the ninth episode, fans saw Callie hand over some proof of Rita's innocence to the police, where Carmen (one of the Girls United members) admitted that she lied about Rita (the woman who runs the Girls United house) attacking her, thereby putting her adoption at great risk.
The recording featured Carmen threatening Callie that she would report inform her social worker that she met Brandon when they were not permitted to see each other. So the teenagers were convinced that Callie was not going to get adopted and decided to give themselves another shot, and spent the night together.
However, the summer finale's promo shows that things are going to go from bad to worse and that there is a lot of heartache in store for Brandon and Callie.
The promo of episode 10 shows the two entering the Fosters house, where Rita is seen and Stef declares, "She [Rita] is recommending your adoption."
Then, Callie is seen telling Brandon: "We had sex. I thought the adoption was completely off the table. What are we going to do?"
The next scene is in the courtroom, where the judge asks Callie, "There is no reason to believe that there is anything here to prevent the adoption. Is that correct?" And the promo ends.
It remains to be seen whether Callie will keep her romance with Brandon a secret.
Meanwhile, actor David Lambert (Brandon) has teased complications ahead for the couple.
Lambert told TVLine that with Callie's adoption possibly not playing out in the way that she expected, the couple will have to "come back to reality" in next week's summer finale.
He said, "That's the ominous cloud hanging over them. They stop for a second and think, and suddenly they realize the repercussions that could take place here. They just chose to ignore everything and just go through with this. So it's going to be definitely a sense of everything coming back and slapping them in the face."
Lambert teased, "The other point to make is: They were under the impression that there was no hope for Callie. That is sort of their reasoning. It might not be the greatest reasoning. But they were so tired of that reason, that when that reason was not there anymore, they almost got too excited about it and jumped the gun a little bit and went for it..."
He further added that things may not pan out the way that they had predicted. "So now they're going to come back to reality. Now they have this sort of regret that they have to share. That's question: What do they do with that little secret now?" the actor questioned.
Moreover, when he was asked if the couple will keep this a secret for Callie's adoption, the 21-year-old said, "Possibly. It's one of those things where Callie assumes a little too much. It's a matter of whether or not [the adoption] actually plays out like that. If Callie isn't getting adopted, then I guess they have nothing to worry about. There is a complication in the last episode, for sure."
The Fosters season 3 summer finale will air on 17 August, 2015.