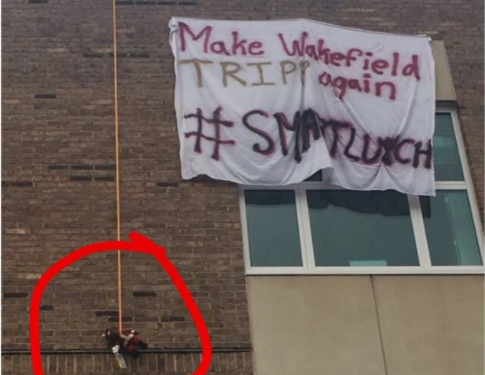 Four high school students are facing disciplinary action, and possible criminal charges for hanging a teddy bear from a noose at Wakefield High School in Raleigh, North Carolina on Tuesday (30 May).
Lisa Luten, a Wake County schools spokeswoman, said an investigation into the incident revealed the students hung the teddy bear and a sign saying "Make Wakefield Tripp again #smartlunch".
The display was reportedly done to showcase some students' desire to have former principal Tripp Crayton return to the school.
Wakefield High School principal Malik Bazzell described the incident as "an offensive act that has no place in our schools" in a letter to parents.
The News & Observer reported that Bazzell, who is black, became principal in 2015 after Crayton, who is white, left for Jordan-Matthews High School in Chatham County.
Luten told the News & Observer that initial disciplinary action had been determined against the four students. The names of the students or specifics regarding their punishments, however, were not revealed. Luten said that school officials are still determining final disciplinary action.
The school resource officer from the Raleigh Police Department is also investigating whether criminal charges will be filed, Luten said. School officials said that along with the sign and teddy bear, the school's football stadium and baseball field were also vandalised. Officers are investigating possible charges for burglary, trespassing and damage to property.
In his letter to parents, Bazzell said the act could have been a senior prank, but added: "It is in no way funny. It is not a prank. This, along with the acts of vandalism that occurred in the stadium and the baseball field will not be tolerated."
Those sentiments were echoed in a tweet by Wake County Schools. "It's deeply offensive to our community and to Wakefield High School. It's wrong and will not be tolerated," it said on Twitter.