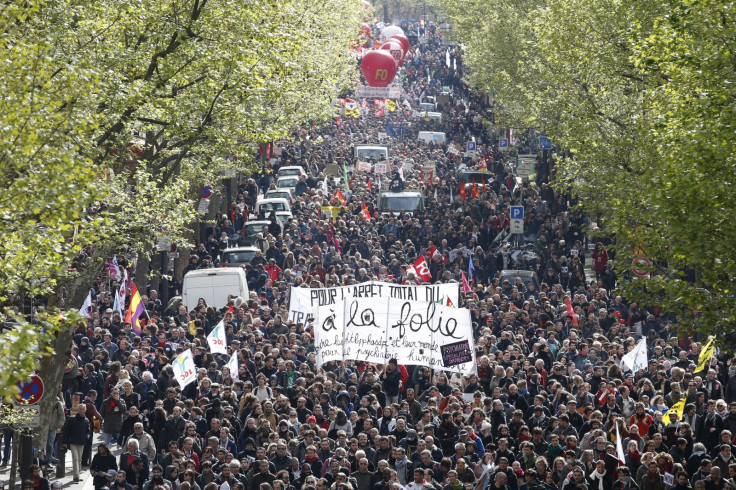 France's iconic Eiffel Tower was forced to close to the public on 14 June as unions striked against plans to change the country's labour laws. Transport in Paris was also disrupted, as thousands of people prepared to march against the labour reforms, which would make it easier for employers to hire and fire staff.
According to a statement on their social media pages, the Eiffel Tower was closed due to members of the operating company, SETE, deciding to take part in the demonstration. French union Confederation Generale du Travail (CGT) has said that the protest on 14 June will rally more protesters than any other demonstration against the labour reforms in the last three months.
A spokesperson for the Eiffel Tower said: "Some of the personnel had reported that they would take part in the multi-sector day of action. As there are not enough staff to open the monument and provide the required welcome and security for the public, theTower will be closed all day."
The closure of the Eiffel Tower comes as thousands of tourists visit France for the Euro 2016 football tournament. In a separate protest, Air France pilots went on strike to demand better working conditions, cancelling roughly 20% of all its flights, causing further travel disruption.
Roughly 15,000 to 20,000 people visit the Eiffel Tower every day, making it one of the most popular tourist attractions in the world. It drew a staggering 7 million people last year, with 80% of them travelling to visit the monument from abroad. Those who had tickets for 14 June would be reimbursed.
Seven unions and student organisations are taking part in the demonstration against the new labour laws, which is being debated in the French Senate. The reforms are aiming to tackle France's 10% unemployment rate.