French authorities have released footage of customs officials impounding a big cannabis haul destined for the UK on 21 September.
In a news release, French customs stated that officers inspecting heavy goods vehicles heading down the channel tunnel chose to search a truck and trailer that were registered to Romania and Denmark respectively.
Documents showed that the trailers were supposedly transporting industrial filters and animal protein from Spain to the UK but when authorities checked the filters and opened the metal lids they found numerous heat-sealed grey plastic bags.
Inside the bags was cannabis resin weighing 1,698kg. All 32 filters were seized by customs officials. French authorities did not specify whether the two drivers, a father and son of Romanian origin, had been arrested or charged.
According to French customs the huge resin haul has an estimated value of over €12m (£10.5m). French authorities seized 83.4 tonnes of narcotics in 2016 - that included 64.5 tonnes of cannabis.
Footage released showed officers opening up the filters and unpacking several sealed grey bags before displaying the entire haul laid out beside the road.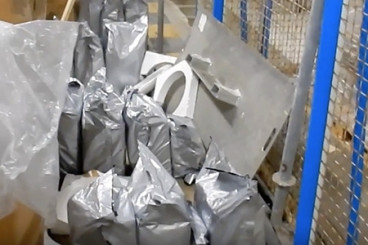 On 21 August, French authorities arrested a British man attempting to return to the UK via the channel tunnel after spending over two decades on the run from police. Michael John Ashworth, 57, absconded after being released on a temporary licence in 1995.
He had 18 months left to serve out of a five-year drug related sentence. Reports said that Ashworth may have spent some of the intervening period living in the Netherlands.