French presidential candidate Emmanuel Macron files legal complaint over 'anti-Semitic' cartoon
Image shows candidate with a hooked nose, which Macron's team call reminiscent of the worst anti-Semitism.
Emmanuel Macron, the most likely candidate to win the French presidential elections, is to file a legal complaint against his Republican rival Francois Fillon's party after his campaign tweeted an anti-Semitic image of the former banker.
The image, shared on the social media platform twitter, shows Macron dressed in a top hat cutting a cigar with a red sickle showing his links to members of the Paris establishment. The cartoon also depicts the former economy minister with a hooked nose which Macron's team has called reminiscent of the worst anti-Semitism.
Macron is not Jewish but the cartoon appeared to reference his previous work for the Rothschild investment bank.
In the aftermath of the tweet, Fillon has been forced to distance himself from the cartoon which has been deleted. The conservative candidate called the image "unacceptable" and said he understood the tweet had "evoked the images of a dark period of our history and exploited an ideology that I have always fought against," according to the Telegraph. He asked for the members of his party responsible to be punished.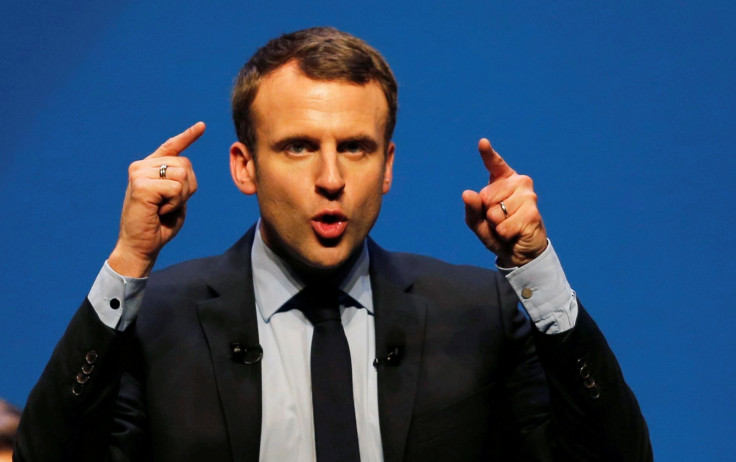 However, officials with Macron's En Marche (Onwards) party have said they will file a legal complaint.
"What I find worrying is the debasement of public debate. Here we find a graphic grammar that is reminiscent of the darkest years," Richard Ferrand, the secretary general of the party said.
The scandal is yet another blow to the Fillon campaign which has been hit by a series of scandals and gaffes. Articles published by Le Canard Enchainé concerning Fillon and his family have alleged his wife Penelope was paid €875,000 (£746,000) as a legislative aid.
Testimony from a number of former employees in Fillon's office, as well as Penelope's own answers given in previous interviews, have been given as evidence that she never worked for her husband and essentially was paid for a "fake" job.
The couple's two children also reportedly earned €84,000 between them from 2005 to 2007. Fillon has maintained he is the target of a witch-hunt but has apologised for involving his family in his political work.
At a highly charged press conference on 1 March, in which some commentators had presumed the former Prime Minister would drop out of the race, Fillon announced he had been formally summoned by magistrates to answer questions over his finances. He had previously said he would step down from his position as Republican candidate if he was put under formal investigation.
Earlier this month Fillon enraged social media and social society by repeating in a nightmare interview that he is "not autistic" when pressed to explain why he has remained in the race to the Elysee palace.
Speaking on France 2, Fillon, who has faced repeated calls to stand down after he was placed under formal investigation over the misuse of public funds, told his interviewer: "I'm not autistic, I can see the difficulties," and went on to repeat the gaffe two more times. "I must gather my [political] family, that's obviously what I tell you I'm not autistic," he said, adding finally: "I did not shut up, I'm not autistic."
© Copyright IBTimes 2023. All rights reserved.