Frustrated commuters in Britain are used to hearing train operators blame leaves on the line for delayed journeys, but US drivers had to put up with a traffic jam caused by frozen pizzas on the freeway.
An 18-wheel trailer full of DiGiorno and Tombstone frozen pizzas was caught in an accident that saw it spill its load on the Mabelvale Road overpass on Interstate 30 in Little Rock, Arkansas.
No one was injured in the accident, which happened yesterday afternoon (9 August), but it took a crew four hours to clear the freeway of the TV dinner favourite, said the Arkansas Department of Transportation.
"There's a lot of frozen pizzas laying out on the interstate right now," department spokesman Danny Straessle told Arkansas Online. "Lots of pizza fatalities."
The trailer shed its load after it scraped a bridge support, which sliced open the vehicle.
The highway, which goes around the south side of Little Rock, is part of a major link that connects Dallas and points west to Memphis, Tennessee, and points north and east.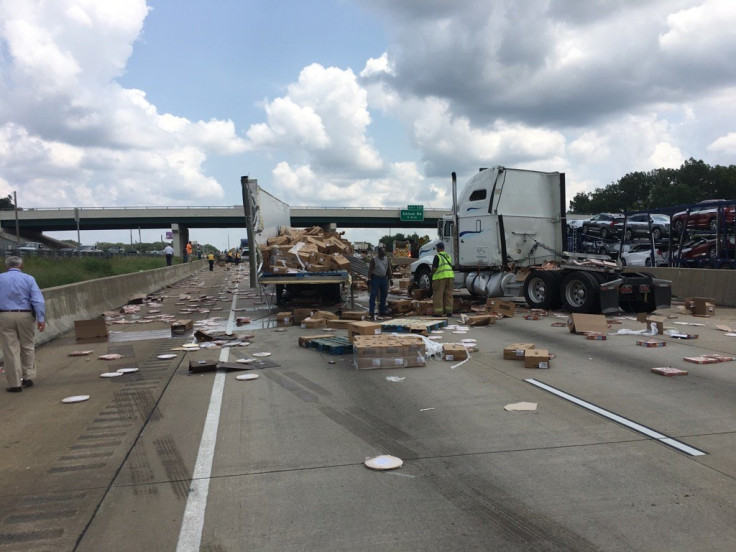 The incident was not nearly as messy as an accident last month in Oregon when a truck carrying eels overturned, turning the road into a gooey mess.
In this spill a truck was driving north on Highway 101 with 13 containers holding 7,500 pounds (3,402 kilogrammes) of hagfish, which are commonly known as slime eels.
But as the truck slowed to approach roadworks the containers slid from the vehicle shedding their slimy cargo, causing a four-car pile-up. Fortunately, no one was hurt.