Video shows 'Rally Cat' kitten halting Cardinals vs Royals baseball game after invading field
St Louis had been trailing when the feisty feline sprinted onto the field but went on to win the game.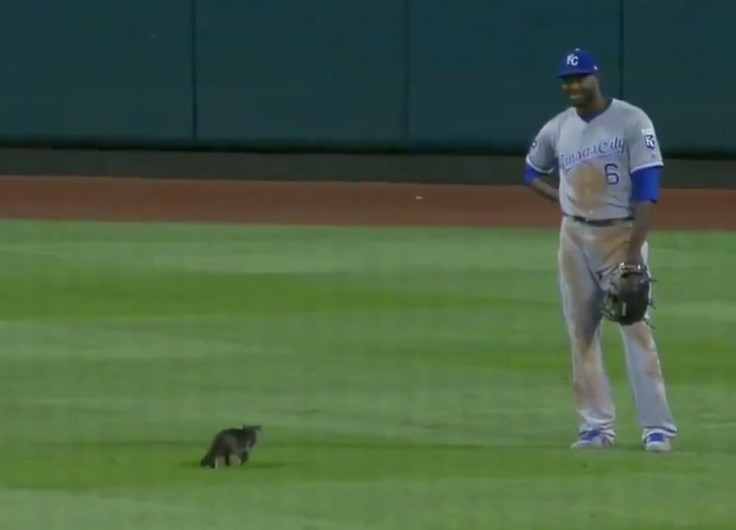 In what may have been a lucky mascot for Missouri's St. Louis Cardinals baseball team, an adorable kitten stopped play on Wednesday night (9 August) after running onto the field.
With the bases loaded and the Cardinals trailing the Kansas City Royals 5-4 in the bottom of the sixth inning, the game had to be delayed for a few minutes as the small cat emerged on the outfield at Busch Stadium.
Video footage shows the kitten running to cheers from the crowd as it made its way from somewhere behind third base.
Royals centre fielder Lorenzo Cain stood looking bemused as the small cat sprinted past him.
It was eventually captured at the wall by Lucas Hackmann, a member of the stadium's grounds crew, who was seen recoiling in agony as he received a few bites from the feisty feline while carrying it away from play.
He was later taken to hospital for precautionary shots but is believed to have only suffered cuts and grazes. It is understood the kitten was taken away from the ballpark and could be given up for adoption.
And it will likely have no shortage of Cardinal fans willing to give it a home.
On the first pitch after play resumed, Yadier Molina hit a grand slam off Peter Moylan to give the Cardinals an 8-5 lead.
St. Louis went on to win the game, with the victory seeing the kitten dubbed #RallyCat by fans.
The incident brought back memories of 1984 when a stray kitten ran amok on the field at the now-demolished Seattle Kingdome.
The incident also saw a staff member jump in agony as he picked up the cat and was bitten on the finger.
© Copyright IBTimes 2023. All rights reserved.