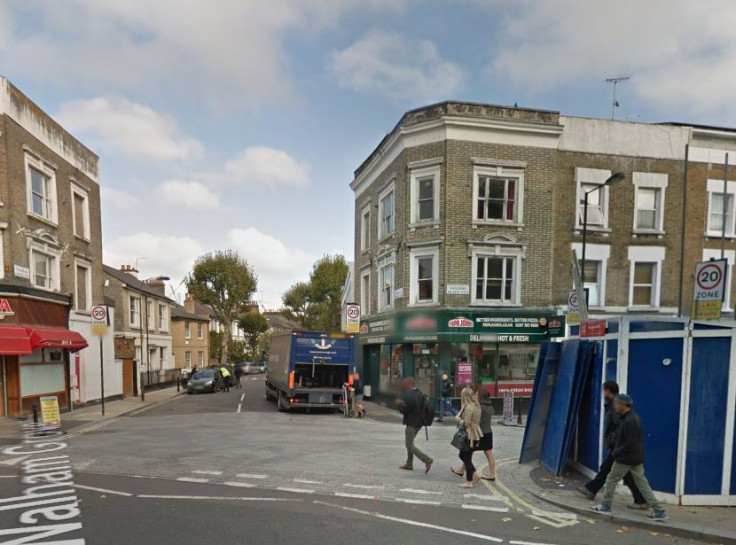 A murder investigation has been launched after a man was shot in the head during a suspected ambush outside a restaurant in west London.
The 24-year-old victim was killed by a gunman as he climbed into the passenger seat of his friend's car at around 9.30pm on Monday (5 December). He was pronounced dead at the scene.
The victim had been eating dinner with his friend at a fast-food restaurant in Walham Grove, Fulham, before being ambushed in the street outside at the junction with North End Road.
The Met Police said "it would appear that the gunman had been lying in wait".
Forensic police were seen combing the car – a silver and black Renault Captur – for clues, covering the body with a white blanket.
Detectives said they were "keeping an open mind" about the motive for the killing, and have appealed for potential witnesses or anyone in the area on the evening of the shooting to come forward.
Detective Chief Inspector Noel McHugh, leading the investigation, said: "I would like to hear from anyone who may have seen or heard something that could help us catch the person responsible for this murder.
"It would appear that the murderer had been waiting in the street in Walham Grove for a while for the friends to return to their car. Did you see someone hanging around in the area from about 20:30hrs up until the time of the murder?
"Also, I am directly appealing to any cyclists or drivers who were in Walham Grove or North End Road from 20:30hrs who may have captured images on their own cameras. This material could have captured something that may prove significant, so please get in touch with us and share your footage.
"At this stage in our investigation we are keeping an open mind regarding motive and will be trying to establish the victim's precise movements in the days running up to his murder.
"Officers have been working through the night to carry out house-to-house enquiries and capture any CCTV."
Scotland Yard says formal identification has not yet taken place but it believes it knows the identity of the deceased and that next-of-kin have been informed.
---
Anyone with any information is asked to contact the incident room on 020 8785 8099, or call Crimestoppers anonymously on 0800 555 111.