It is a known fact that Samsung's Galaxy S5 Mini, a compact version of Galaxy S5, matches the original flagship smartphone in terms of looks and even shares the same fitness tools. The Mini model offers enhanced protection features, but with a smaller screen and battery and 1.4GHz quad-core power house inside.
But does the S5 Mini offer battery performance similar to Galaxy S5 when compared to other rival mini models in the market? Apparently, it does, suggests the battery tests by GSMArena covering all aspects, ranging from talk time to endurance.
In the call endurance test, the Galaxy S5 Mini offered a decent battery life of 12 hours and 18 minutes, although it failed to beat the original Galaxy S5, which ran for nine hours more. Other mini smartphones in the list such as HTC One Mini 2 was two hours behind the S5 Mini. However, Sony's Xperia Z1 Compact managed for almost 21 hours, whereas the Moto G was at 13 hours and 41 minutes in the same test.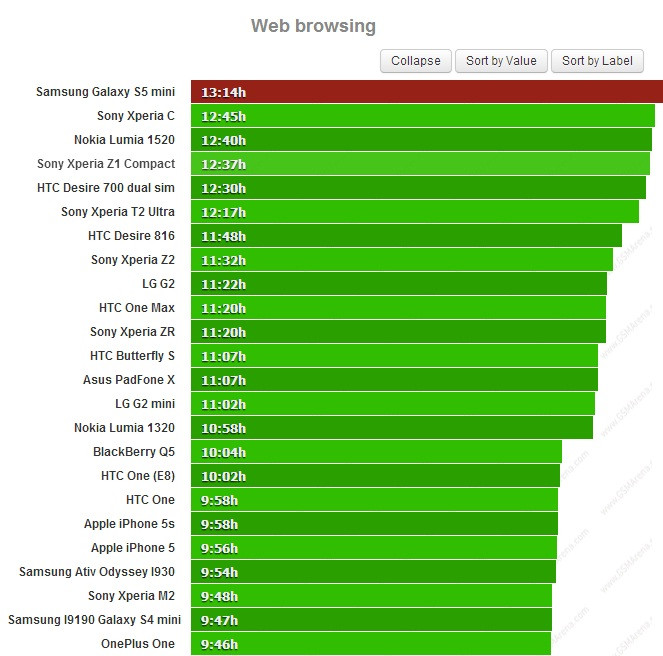 The Galaxy S5 Mini took the crown in the web browsing test and went on for slightly more than 13 hours. This is said to be the best web browsing ever tested on Super AMOLED handsets and twice more than the internet use offered by the One Mini 2, while beating other rival models such as Z1 Compact, Moto G and LG G2 Mini.
The handset retained its performance again in the video playback test. It delivered 11 hours of video playback with 50% brightness and 10% loudspeaker sound. Although, the S5 Mini was not one among the top performers, it was way ahead of LG G2 Mini, Moto G and One Mini 2.
Finally, the Mini model managed about 250 hours of stand-by and scored an endurance rating of 72 hours. With an average time of 11-12 hours in all the tests hints, the S5 Mini offers a great deal when it comes to battery performance.