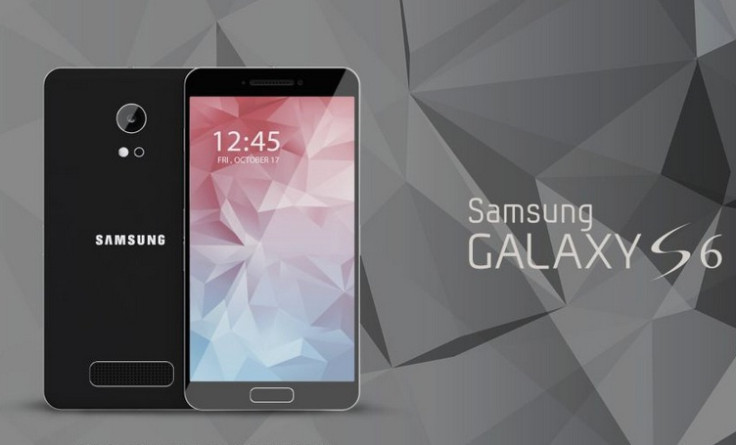 Fresh details pertaining to possible release dates for Samsung's upcoming flagship phone, the Galaxy S6, have surfaced online via a leaked Samsung internal document, with due credit to an unidentified tipster who is allegedly a Samsung employee.
According to Phone Arena quoting the tipster, it has been ascertained that the Galaxy S6 launch time coincides with Samsung's proposed vacation blackout period between 22 March and 30 March.
Samsung also mentions a second proposed blackout period from 19 April through 27 April in the leaked memo, which is tipped to have something to do with the next Galaxy Note tablet.
The blackout periods are known to indicate the period of time when employees are restricted from taking leave or submitting a time off request to the company.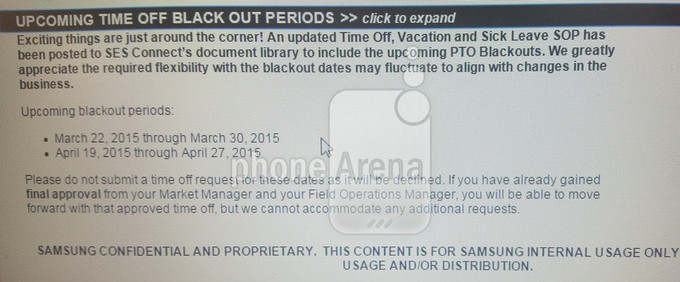 The leaked official Samsung memo (see screenshot above) hints at some major product launch during the vacation blackout period as depicted in the company's official statement:
"Exciting things are just around the corner! An updated Time Off, Vacation and Sick Leave SOP has been posted to SES Connect's document library to include the upcoming PTO Blackouts.
"We greatly appreciate the required flexibility with the blackout dates may fluctuate to align with changes in the business."
Consequently, it can be deduced that Samsung seems to be in a hurry for a quick launch of Galaxy S6 during one of the two blackout periods, following its announcement on 1 March.
Folks at Phone Arena strongly suggest that 22 March could well be the tentative release date for Galaxy S6 with Korea expected to debut the handset, given the fact that Samsung launches its premium products across various countries in phases.
In other words, the US carriers are expected to launch the handset at least two weeks after its debut release in Korea, closely followed by other markets.
In related news, recent reports have confirmed the key specifications and probable model numbers for the handset, besides hinting at its potential performance capabilities through leaked benchmark test results.