The mobile accessories manufacturer, Incipio has launched new battery case for Galaxy S6 family, which puts an end to the problems for those who were concerned about the additional storage and battery life.
Like the other Galaxy series, Samsung's new Galaxy S6 and S6 Edge do not support microSD card, but come with built-in storage options such as 32GB, 64GB and 128GB. If still you still feel the option for expandable memory serves some good for your S6 series, you can always opt for Incipio's new Offgrid battery case, which allows up to 128GB of additional storage.
You can keep you data secure by syncing your cloud file storage provider using the Incipio File Browser app to upload photos, videos and music.
Additionally, it comes with a built-in 3700mAh battery, which stores whole lot of extra power than the Galaxy S6 that uses a 2550mAh battery and the S6 Edge with a 2600mAh battery.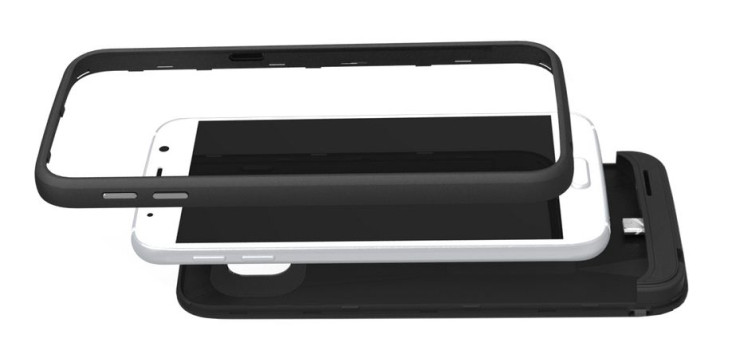 Slashgear managed to have obtained access to the battery case and notes that it is quite sleek, but those who love the thinness of the S6, might feel slight hitch, as the case doubles the size of the phone.
For charging, it support Qualcomm's Quick Charge 2.0, but does not allow wireless charging. It supports the NFC-based 'swipe and pay' features of the smartphone. Following are the key features of Offgrid battery case.
Doubles surfing, downloading and streaming powered by an ultra-thin 3700mAh Lithium-Polymer battery

Built-in microSD card slot expands the onboard storage of your device up to 128GB (microSD card not included)

Supports Quick Charge™ 2.0 and Samsung Fast Charging pass-through allowing your phone to rapidly charge while connected to the battery case (requires Quick Charge™ 2.0 or Fast Charge compatible charger)

Includes additional bumper compatible with Samsung Galaxy S6 edge
Head over to the product page to buy Offgrid battery case, which costs $89.99 (£58).