The beleaguered Game Group, which comprises Game and GameStation stores in the UK, has been rescued by investment firm OpCapita safeguarding almost 3,200 jobs and the remaining 333 stores.
Game Group went into administration last week and administrators Price Waterhouse Cooper (PwC) were appointed to find someone to take on the company's debts of around £85m. A rent bill of £21m came due last week, and a wage bill of £12m is due this weekend. The company also owes £40m to creditors though it is unclear if this is part of the deal, which was completed for the nominal figure of just £1.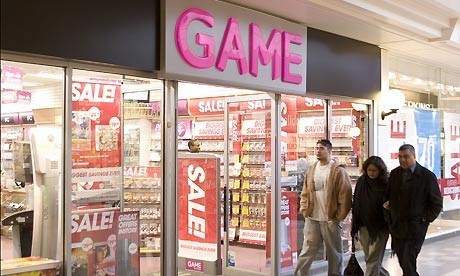 OpCapita, which last year bought Comet for just £2 from Kesa, set up a vehicle called Baker Acquisitions to do the deal and has agreed to purchase the 333 remaining Game stores which were not closed by PwC last week as part of the cost-cutting process.
A statement from PwC said: "Under the terms of the transaction, Baker Acquisitions will acquire the UK business out of administration and will provide it with the capital it needs to trade on a normalised basis. Baker will acquire all 333 UK stores that have remained open during the period of administration. The agreement means that the jobs of nearly 3200 Game employees, who will transfer to Baker, have been safeguarded."
OpCapita will also seek to re-employ a small number of staff who previously worked at Game's head office, but who received redundancy notices last week. There are no plans for any further store closures Baker Acquisitions said.
The closure of certain stores led to some members of staff in Irish stores taking part in sit-ins to protest against the closure. As well as OpCapita, it had been rumoured that American outfit Gamestop and a consortium of banks had been preparing bids for the remaining parts of Game's assets. Indeed OpCapita had an initial bid rejected prior to the group going into administration.
The first signs of trouble for Game came when the company was unable to secure stock from companies like EA and Nintendo over fears Game would not be able to repay them. This meant that Game was unable to stock some AAA titles such as Mass Effect 3, which led customers to shop elsewhere. This had a knock-on effect and saw improved trade for independent video game retailers, such as Barkman Computers of Kingston, who IBTimes UK spoke to in an exclusive interview.
American retailer GameStop may however still be part of the deal, with reports suggesting it is interested in purchasing the 600 overseas stores in France, Australia, Sweden, Denmark, Norway.
After taking over the stricken video game retailer PwC wasted no time in slimming down the business, closing down 277 branches with immediate effect resulting in the loss of 2,104 jobs, plus a further 15 jobs at the group's Basingstoke headquarters. CEO Ian Shepherd also stepped down.
Despite the mounting debts and the drop off in sale, Henry Jackson, Managing Partner of OpCapita is optimistic about the future of the retail store:
"We are pleased to have reached agreement with the Administrator. We strongly believe there is a place on the high street for a video gaming specialist and Game is the leading brand in a £2.8 billion market in the UK. We have assembled a strong team of experienced industry operators to implement the programme of operational change that is needed. There is a huge amount to do but we look forward to the challenge of restoring Game's fortunes in partnership with its employees and suppliers."
Whatever went wrong for Game, OpCaptia face an uphill struggle to turn the group around and to re-engage with customers who they have lost touch with in recent years.