Looks like the eagerly-awaited first trailer for Game of Thrones season 5 has got a premiere date.
The upcoming season 5 trailer will be unveiled during a special one-week IMAX screening of last season's final two episodes staring 23 January, 2015. (via Entertainment Weekly)
This will be the first time a TV series will be showcased on the big screen in the IMAX format.
"The cinematic brilliance and grand scope of the series is perfect for the IMAX format," said Pamela Levine, chief marketing officer at HBO. "We are always looking to provide fans with new and exciting ways to experience the show and viewing two key episodes, along with the new trailer, on such an impressive platform makes for a great event."
It remains to be seen whether this will be the first and last time Game of Thrones will feature on the big screen. It was earlier reported that author George RR Martin and others associated with the series were keen on concluding the seven-season show with an original feature film. However, HBO has not been in favour of this prospect.
Meanwhile, all the rumours suggesting that the upcoming season 5 will feature flashback scenes/episodes - appear to be true.
Reportedly, a young actress has been cast to play the younger version of Cersei Lannister. GoT fansite Watchers on the Wall posted the following tweet revealing the young Cersei along with another young actress.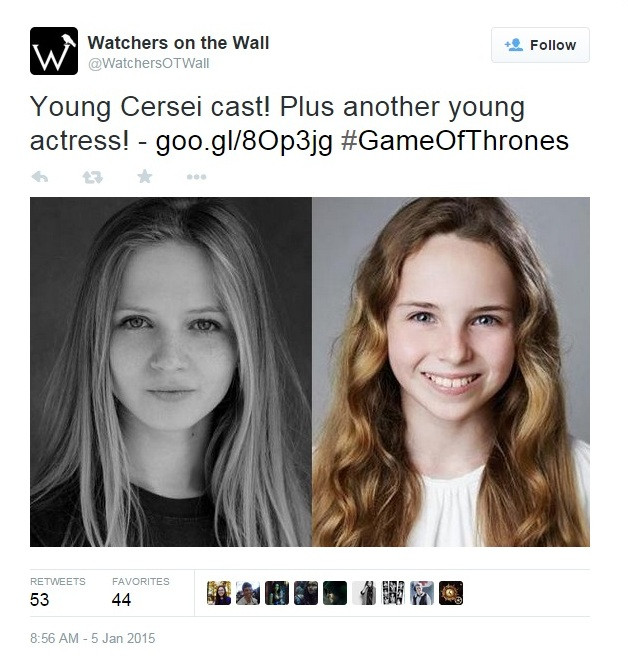 Earlier reports had also teased that the rumoured flashbacks will bring back other popular characters like Ned Stark and Oberyn Martell. However, those rumours seem to have died down now.