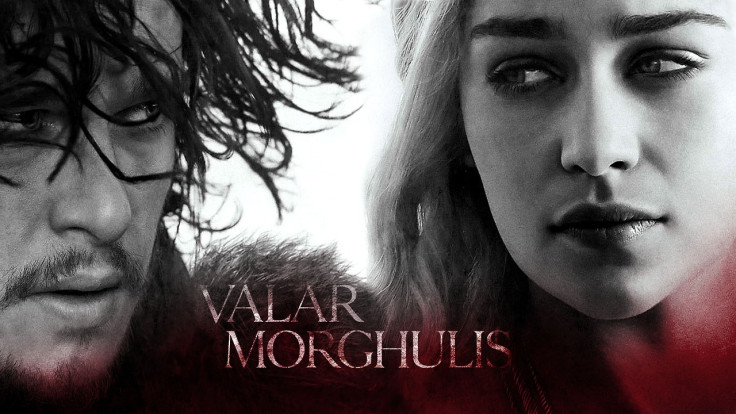 Filming for Game of Thrones season 6 has begun in Northern Ireland and the first leaked on-set images have surfaced online.
The images do not really reveal much expect that some men dressed in dark colours, someone on a horseback and maybe some extras who could be either soldiers or travellers, reports Game of Thrones fansite Watchers on the Wall.
Earlier rumours suggested that filming for season 6 would take place this weekend on Binevenagh mountain - an area (in Northern Ireland) that was featured in season 5, standing in for the lands around the Vale. "Perhaps the man on horseback is Littlefinger, returning to the Vale?" speculates the website.
Game of Thrones filming in #Magilligan #GameofThrones pic.twitter.com/jPrCAMnYYk

— Dean McLaughlin (@Dean_Journalist) July 27, 2015
Another Twitter user's recent post reveals that the makers are filming scenes involving Daenerys Targaryen in Magilligan. Apparently, actress Emilia Clarke was spotted at the location. Incidentally, this is the same location where the final season 5 scenes featuring Daenerys were shot.
Well I've toured Northern Ireland to see game of thrones scenes, and today I saw them filming for daenerys targaryen! #gameofthronesseason6

— Cody Gulick (@Smoofcookie) July 27, 2015
Meanwhile, all clues point towards Jon Snow's return in season 6. Apart from the fact that actor Kit Harington was spotted with the rest of the cast in Belfast recently, a filming location for season 6 has fuelled rumours that the show is not done with Jon Snow yet.
An iO9 report states that the show is headed to Guadalajara, Spain to film at the Castillo de Zafra. The structure bears an uncanny similarity to a description of the Tower of Joy - which is prominently featured in flashbacks to King Robert's Rebellion - as the place where Ned Stark's sister Lyanna was found dead.
If the Castillo de Zafra is the Tower of Joy in the show, it could confirm one of the most popular Game of Thrones theory on Jon Snow's true parentage:
Also, if that is the case, then maybe Jon Snow will feature only in flashback scenes in season 6...prior to the time he left to join the Night's Watch. Now all we need is for someone to spot Sean Bean on GoT season 6 sets and this theory is confirmed!