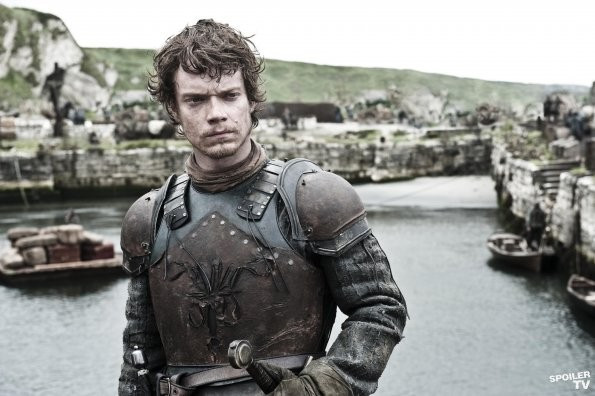 "He once told me that being a lord is like being a father, except you have thousands of children, and you worry about all of them." Robb, echoing the wisdom of his father, is becoming fully aware of the responsibilities he now holds as the King in the North. He has led men into battles, and many have died for him, but it will all be worthless if they do not achieve justice and make sure that the Lannisters never threaten them again. But he is torn between his desire to protect his people and his love for one person - Talisa. There was an instant chemistry between him and the foreign nurse, but Robb knows that he is due to marry a Frey, after they allowed him to cross the Riverlands.Talisa japes, "You needed that bridge. I hope it is a very beautiful bridge." Talisa speaks of her reasons for leaving Volantis, telling Robb of her brother being saved from drowning by a slave and that she vowed from that day onwards to protect and care for others. Robb, bewitched by her selflessness and mesmerising beauty, betrays his marriage proposal as the two passionately make love. With the support of the Freys now supposedly lost, and his prize prisoner Jaime Lannister escaped, Robb must act soon before all his fine work so far falls apart before him.
His former best friend Theon is having an even harder time at Winterfell. Expecting a hero's welcome for his sister, he is instead openly mocked. "Which one gave you the tougher fight, the cripple or the six year old." The words might be harsh, but Yara means well. The self-styled 'Prince of Winterfell' has made the northern capital his vanity project, and in pretending to slay the two Stark children has turned the whole North against him. Yara's anecdote about her baby brother applies to his current situation. A wailing and insolent child, all he has ever wanted is the love of his family, be it the one he was born into (the Greyjoys) or the one he was raised with (the Starks). Yara now offers Theon the chance to come back with her and leave Winterfell behind, telling him that he will not last long when the North seeks revenge. She advises him that this isn't his place any more when she tells him, "Don't die so far from the sea."
Meanwhile Stannis prepares for his assault on King's Landing. Davos informs him that they should be on the city within a day. Sailing in the black of night, dawn will soon be upon them, and with that the chance for the Baratheon to finally claim what he sees as his right. The former smuggler is mockingly called 'The Onion Knight' due to his past, but as Stannis notes of the other lords, "Where were they when our people were starving?" Stannis admires Davos for his devotion, and the fact his efforts are to serve the people, rather than for glory. Tyrion, the other King's hand, could only wish people would heed his advice to protect the people.
Cersei believes she has cornered Tyrion when she presents what she believes to be his concubine. Tyrion is relieved to find that it is not Shae but in fact Ros, though he is clearly shaken by the whole event. Cersei notes, "Do you know why Varys is so dangerous...because he doesn't have a cock." Tyrion's heart is his weakness, and in a city that is about to be stormed by Stannis he cannot protect Shae, let alone the people of the city.
Playing the Game
It turns out, unsurprisingly, that the two boys hanged at Winterfell were not Bran and Rickon after all, and that they are closer to home than anyone expects. Hiding in the crypts of Winterfell, The Starks know the hidden depths of the northern city better than anyone, and it is a place that no-one would think to look. If Theon already seems like a fool, imagine his reaction if he realised that the escaped prisoners are right under his very nose.
Being Played
For all his dark and mysterious magic, Jaqen H'ghar was undone by the wits of a young girl. Arya is dismayed when Tywin suddenly decides to march from Harrenhal before she can make him the third and final of her wish list to die. Jaqen states that he cannot determine the time of Tywin's death, and so frustrated by her lack of options, she ingeniously comes up with another way of escaping her situation. When she tells Jaqen she wants the third death to be himself, he is mortified to have been chosen and begs she reconsider. She does, but only on the condition that he ensure her escape. And so, in the dead of night, Arya escapes along with Gendry and Hot Pie, chasing after Tywin before he makes his attack.
Best Moment
In an episode that built up a deep sense of foreboding before the series' climax, it was perhaps the moments between Jaime and Brienne that brought some welcome levity to proceedings. Released by Catlin as an exchange for her daughters, Brienne has become the appointed transporter of the precious, yet deadly cargo. Immediately Jaime tries to find a weakness in the burly woman, asking, "Has anyone ever told you, you are as boring as you are ugly." Brienne maintains her calm, determined to carry out her duty, though Jaime would sooner he was let out of his shackles and given the glory of swordfighting again. He boasts, "Do you think you could beat me in a fair fight." Brienne retorts, "Maybe one day we'll find out kingslayer." Let's hope so, for I wouldn't know who to put my money on.