I can't decide whether I envy or pity Kate Middleton and her elegantly attired bump. On the one hand, so peachily privileged and her purpose so clear: breed to support the monarchy. Turn up, smile and be good for UK plc. When it all gets too much, drop the children with the nanny and pop to the Maldives for a week. Recover some inner peace and bake the next one.
On the other hand, constantly judged by fools like me and locked inside that pampered cage surrounded by oddballs. No, not you Harry. The rest of them.

For us mere mortals, Middleton serves as a daily reminder of the old world order, idealised by Ukip. A time when women were defined by their marriage and children. Which – happily – has largely passed. Yet, frustratingly, the infrastructure to support these changes, including the monarchy, seems to have barely shifted.
A colleague describes it like a hybrid car. We have electric and petrol engines combined because, while we know the era of petrol is coming to an end, our system isn't ready to go fully electric.
Not about men and women but parenthood
On which theme, I've become frustrated by "women in business" events where the chat is yawningly predictable but the solutions so piecemeal. I attended one – Chatham House rules or I'd tell you all about it – where two senior women talked about how their businesses have changed to meet the needs of a more diverse workforce.
In thinly concealed recruitment ads, we heard that in their organisation it's all better now. Flexible, talent-based and technology enabled: it rocks. The walls are purple. As they talked, my mind conjured a fantastic world where you wander in at 11am and leave at 2pm and get your nails done while you breastfeed twins and the Diet Coke guy cleans the windows.
I saw members of the audience briefly head-roll as their late-night working caught up with them, dribbling over last year's Asos shirt and wondering how they ended up in the wrong company, industry or life.
One lone wolf put up her hand and said what she heard didn't reflect the real pressures of her business or what she sees around her. We talked later: she chose not to have children, she works a lot of hours and is very successful. She said: "This isn't about men and women, it's about people with kids and people without kids." Maybe there is truth in that.
Fresh approach needed
Just like the business leaders, the main political parties are telling us women really matter. The Mumsnet vote is a golden ticket. The posh boys are all feminists. But what are they actually doing?
Talking paternity leave, Sure Start and after-school clubs, 15 or 20 hours a week for three-year-olds. None of it's bad, some of it's even helpful: but it's just tinkering at the edges of a system designed for an era when everyone wore hats. Where is the fresh take that will enable us to nurture the next generation alongside our need to make money and grow the economy?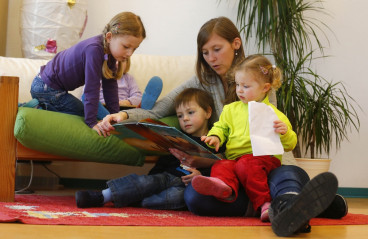 By way of a small example, why do we pay women on statutory maternity leave £138 ($205) a week – £100 less than the minimum wage for a 36-hour week? An amount based on women not being breadwinners and their income not accounting for half of the rent or mortgage. You can't help look at it and think "pin money" without even knowing what was so special about pins.
Who is talking about this? Who is putting out really creative proposals to bring the structures of society up to date? Who is making over the monoliths for this new world: our creaking NHS, our bizarre and complex tax and benefits system and even the poor, beleaguered BBC enduring histrionics as it tried to fire Jeremy Clarkson?
If you step back for a moment you realise they all belong to a time when the future king assumed he could write impassioned letters to ministers and no one would ever know. That all said, I still wouldn't swap my life for Middleton's. But I'd give my right arm for that week in the Maldives.
Christine Armstrong is a contributing editor of Management Today, author of Power Mums (interviews with high-profile mothers) and founder of www.villas4kids.com. She can be found on Twitter at @hannisarmstrong.