An "untouchable" Cardiff drugs gang which posed for pictures showing them cutting cocaine and holding up thousands of pounds in cash up to their ears have been jailed for almost 30 years.
Investigators seized almost £30,000-worth of drugs and several thousand pounds in cash from the four-strong gang that was making more than £6,000 a day.
Cardiff Crown Court heard Liam Wall, Lee Smith, Connor Morse and Christopher Elgifari were caught operating "the busiest drugs line in Cardiff" from a dedicated phone number called the "Lewis Line".
The four men Liam Wall, 27, Lee Smith, 28, Connor Morse, 21, and Christopher Elgafari, 25, all pleaded guilty to four counts of conspiring to supply crack cocaine, heroin, cocaine, amphetamine and cannabis between September 2015 and December 2016.
They were sentenced on Tuesday (4 July) at Cardiff Crown Court with Judge Jeremy Jenkins described the conspiracy as "substantial".
Prosecutor Heath Edwards said, according to Wales Online: "Each of these defendants had involvement in drugs trafficking – conspiring to supply heroin, cocaine, amphetamine and cannabis to drug users in Cardiff."
Wall, from St Mellons, was sentenced to nine years and seven months; Smith and Morse, from Grangetown and Pentwyn respectively, were both handed eight years terms; and Elgifari, from Pentwyn, was jailed for three years and seven months.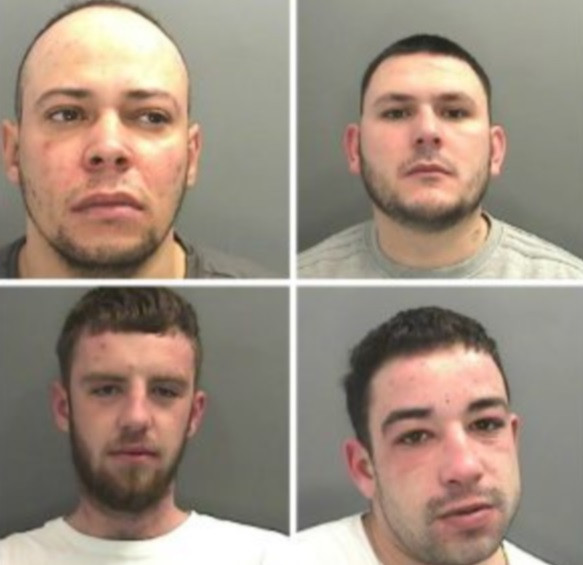 South Wales Police say that their Organised Crime Team recovered £22,000 of drugs, including 2kg of amphetamine and 1kg of cannabis, during the investigation.
The court had heard that Wall, Morse and Elgifari were arrested by officers who intercepted the blue BMW they were traveling in on the M4 in November 2016 after picking up drugs from Liverpool.
Inside the vehicle was £11,500 worth of drugs. All of the defendants denied any knowledge, with Elgifari claiming they had been on a "road trip to the mountains".
Wall first came to the attention of police when he attempted to change £2,000 worth of coins in a coin machine at Asda in Pontprennau in September 2015.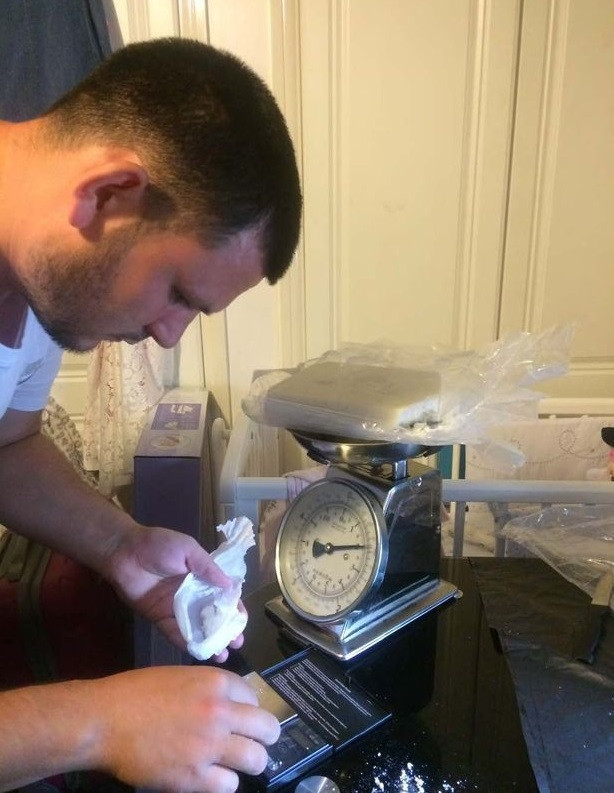 On his phone were several incriminating messages and photographs, including an image of him holding a wads of cash and smoking cannabis.
Also discovered during their arrest was a picture of Smith weighing 2kg of cocaine.
Judge Jenkins told the gang: "Each of you played an important role in a substantial conspiracy to supply heroin, cocaine, amphetamine and cannabis to users and addicts on the streets of Cardiff.
"The enterprise was a long-running and, in terms of financial reward, significant operation.
"At its height, it was one of the busiest drugs lines in Cardiff, capable of turning over in excess of £6,000 per day."
Officer in the case, DC Rod Lewis said "This was a difficult and protracted case dealing with a large drugs gang operating across Cardiff.
"Our aim was to totally disrupt this gang and stop them selling drugs in Cardiff. Wall and Smith were the leaders of this gang and it was due to the amount of compelling evidence we gathered against them that they pleaded guilty to all charges.
"Their belief that they were untouchable was their undoing. They were happy to pose for photographs with large quantities of drugs or cash, which for me as the investigating officer was great evidence."