Plans for a 'sensational garden bridge' across the Thames, featuring 200 species of trees, flowers and shrubs, have been announced.
The £150 million bridge, long championed by local celebrity Joanna Lumley, will span the river from Temple to the South Bank and could open by 2017.
Funding for The Garden Bridge, to be designed by Dan Pearson, will come from a public appeal. A planning application will be submitted by Easter next year.
Actress Lumley originally had the idea and discussed the winning concept with Thomas Heatherwick, the designer behind London's Olympic cauldron.
She said: "This garden will be sensational in every way: a place with no noise or traffic where the only sounds will be birdsong and bees buzzing and the wind in the trees, and below the steady rush of water.
"It will be the slowest way to cross the river, as people will dawdle and lean on parapets and stare at the great cityscapes all around; but it will also be a safe and swift way for the weary commuter to make his way back over the Thames. I believe it will bring to Londoners and visitors alike peace and beauty and magic."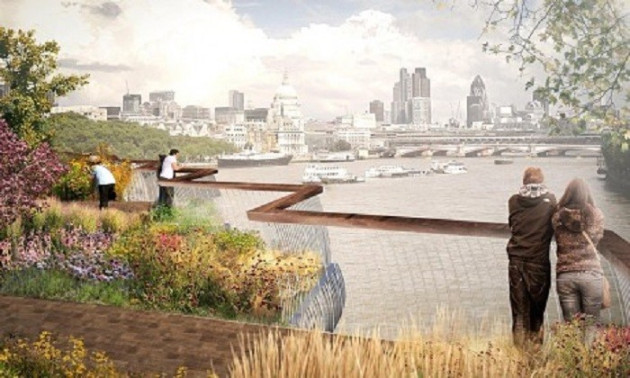 Paths will wind through the gardens and the bridge's edges will sweep around in curves, in places up to 30m wide. The columns will act as giant planting pots embedded in the river for the tallest trees and plants.
Dan Pearson said: "We are honoured and delighted to have been selected to provide Landscape Design services for this exciting project. Our studio is close to this part of the river and the Garden Bridge will provide another, more human, means of crossing the Thames to the cultural hub of the South Bank. We are very much looking forward to developing our ideas for planting alongside Thomas and his team and helping to bring this visionary project to fruition."
The project harks back to a time when bridges such as the old London Bridge were inhabited.
Heatherwick Studio in partnership with engineering firm, ARUP and Transport for London, (TfL) will be responsible for developing the project.
A public consultation, launched on 1 November, will run until 20 December.