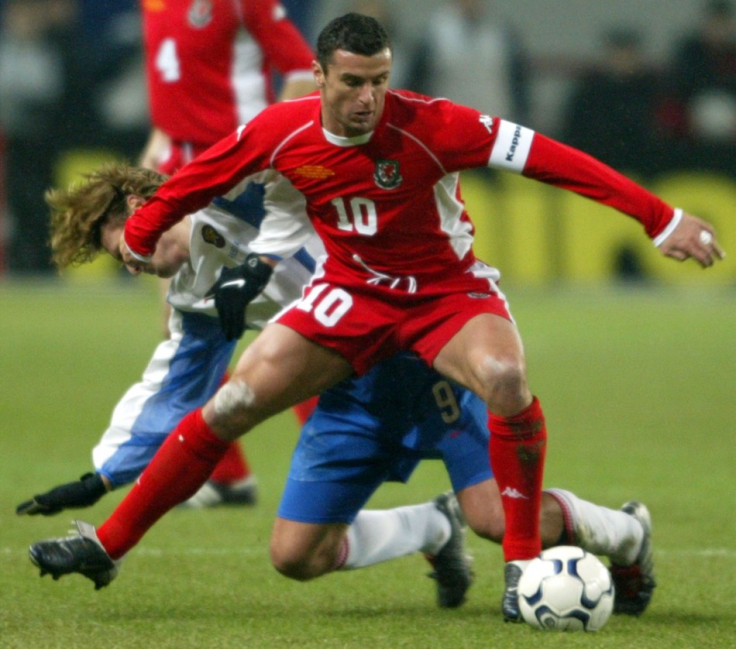 A host of Premier League stars have paid tribute to Gary Speed following the 42-year-old's tragic death on Sunday.
The death of the former Leeds, Everton, Newcastle, Bolton and Sheffield United midfielder, who was found hanged at his home in Cheshire on Sunday morning, has rocked the footballing fraternity and anyone associated with the game.
The tributes have been plentiful, heartfelt and echo the widely held sentiment he was not only a uniquely gifted footballer, but more pertinently a thoroughly likeable, modest and decent human-being.
A number of stars from the Premier League have been quick to add their own tributes to the emotional outpouring of respect shown towards the late Wales manager.
Tottenham Hotspur star Gareth Bale believes Welsh football must honour their recently deceased manager by continuing the superb progress engineered by the 42-year-old.
Bale was typically fulsome in his tribute to the former Wales boss, suggesting Speed's presence in the setup had revitalised his country's footballing fortunes since taking up the post in December last year. Like many, Bale expressed his deepest sympathies to Speed's wife and two sons, suggesting the news came as a devastating surprise to anyone associated with the former left-footed midfielder.
"It was a massive shock, I don't think anybody ever thought anything like this would happen," Bale told Tottenham Hotspur's official website.
"Everyone is devastated and it is a massive loss to everyone in football.
"It is a tragedy, everyone still can't get their head around it and all our condolences go out to his family and his kids. It is a hard time."
"We (Wales football team) were on the up, he changed the way we play and the whole mentality of our game,
"It is a massive loss, but we will try and carry on the best we can in his honour."
Arsenal midfielder Aaron Ramsey, who was made his country's youngest ever captain by Speed earlier in the year, mourned the loss of not only a great manager but more tragically a great man, who seemingly had a profound effect on everyone he met.
"I was given the tragic news this morning. To say I am devastated is an understatement. My thoughts and prayers go out to Gary's family and friends.
"Today the world has lost a great football manager but even more sadly a great man. He will be missed by all."
Bale and Ramsey's compatriot, Manchester United icon Ryan Giggs, who played with Speed in the national side for a number of years and counted him as a friend, admits the news left him "devastated".
"I am totally devastated. Gary Speed was one of the nicest men in football and someone I am honoured to call a teammate and friend," he told skysports.com.
"Words cannot begin to describe how sad I feel at hearing this awful news.
"It goes without saying my thoughts are with his family at this tremendously sad time."
Chelsea forward Nicolas Anelka, a teammate of Speed's whilst at Bolton Wanderers admits he was a friend of the Welshman and his young family.
Anelka told The Daily Mail: "He was a great man.
"I played with Gary at Bolton and he was my friend. I knew his kids and wife and it's very sad.
"This is a massive loss to football, he played such a part in the history of English and Welsh football and I am very sad to hear the news.
"We all have good memories of what he has done in the past and they will live on."
Anelka's club colleague, Frank Lampard, eloquently illustrated the wider football community's views on Speed. The England international suggested Speed was one of football's true gentlemen, a man of integrity and a shining ambassador for the game at large.
"I played against him quite a few times in my career and he was a very complete midfielder, you could put your house on him and that's why he was holding records for appearances and was greatly admired at all the clubs he represented, because he was such a good professional and person,' Lampard told The Daily Mail.
"Gary was a great player. Every time I met him he struck me as being a real gentleman of the game. You never heard a bad word about him, and he never gave you the impression that you should do.
"I met him by chance in London a few months ago, and he was very polite and friendly. He was a great ambassador for football and my thoughts are with his family and close friends at this time."
Manchester United legend David Beckham, who enjoyed numerous encounters against Speed during their overlapping Premier League careers, also paid tribute to the 42-year-old father of two.
"I think he was an amazing, talented player, a player that had such a glittering career and just began a great career in management as well," Beckham told a press conference in Jakarta, where his LA Galaxy team are playing this week.
"On behalf of myself, the players, the manager and everybody at the Galaxy we'd like to send our love and thoughts to his wife, his children and his family,
"It is a sad time to lose a man like this,"
Cheshire police have confirmed an inquest into Speed's death will be opened at Warrington Coroner's Court on Tuesday at 3pm.