Pro-Palestinian French youth have clashed with police, in a second day of demonstrations, after defying a ban on protests against Israel's Gaza offensive.
Denouncing Israel's escalating military offensive, several hundred young people went on a rampage, setting fire to cars, pillaging stores and attacking two synagogues in the Paris suburb of Sarcelles, home to a large Jewish community.
An umbrella group representing French Jews, known as CRIF, confirmed that the Sarcelles synagogue was attacked. They reported that Molotov cocktails were also thrown at another synagogue in nearby Garges les Gonesse, causing a small fire that was quickly contained.
Groups of Jewish youth are said to have encircled the synagogue in a bid to protect it. Police responded to the violence with tear gas and shots from non-lethal guns.
Authorities banned protest marches after a riot in Paris a week ago saw pro-Palestinian youth attacking synagogues and Jewish stores. Pro-Palestinian youth burned cars and broke shop windows in a neighbourhood dominated by immigrants.
France has Western Europe's largest Muslim and Jewish populations. Crises in the Middle East often spark violent reactions in France.
CRIF denounced the "fanatic groups" behind the attacks, and said anti-Semitic violence "is growing by the day."
In a statement, the group said: "It is time to treat it as a 'form of terrorist deviation and treat it as such."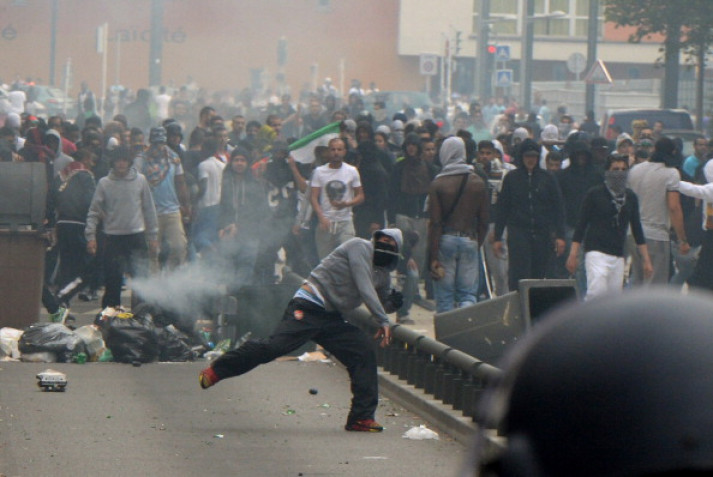 Prime Minister Manuel Valls denounced the "new form of anti-Semitism" on the internet, that he said was spreading among youth in working-class neighbourhoods.
"France will not allow provocations to feed ... conflicts between communities," Valls said.
His message was echoed by President Francois Hollande, as he decorated Serge and Beate Klarsfeld, for their roles in tracking down old Nazis. They were conferred the titles of Grand Officer and Commander of the Legion of Honour respectively.
Hollande said France "will tolerate no act, no words that could give rise to anti-Semitism."
The clashes came just hours after France honoured 13,000 Jews who were kept in a cycling stadium before being sent to Auschwitz, 72 years ago.
According to the Gaza Health Ministry, more than 425 Palestinians have been killed and more than 2,600 wounded, since the start of the fighting.
A total of 18 Israeli military personnel have been killed and two Israeli civilians have also died in rocket attacks.