Microsoft and The Coalition have released the launch trailer for upcoming Xbox One exclusive Gears of War 4, ahead of its release on 11 October. The trailer sets up the new game's plot and hints at new gameplay mechanics including the control of huge gun-toting mechs.
It's exactly the kind of trailer the Gears of War series has become known for during its 10-year history. Since the classic Mad World trailer accompanying the original game, the series' trailers have always been a great spectacle if nothing else. The new trailer is set to a cover of Metallica's Nothing Else Matters.
Announced at E3 2015, Gears of War 4 is the first numbered entry in the series not developed by Epic Games, and starts a new trilogy focusing (mostly) on new characters. The Coalition (formerly Black Tusk Studios) have moved the story on 25 years after the end of humanity's war against the Locust.
The game follows JD Fenix, son of original trilogy hero Marcus, and friends Del Walker and Kait Diaz as they discover a new threat and deal with Coalition of Ordered Governments (COG), who have declared martial law and don't believe the game's protagonists.
Marcus Fenix is the main presence in the trailer, narrating the early portion and being a focal point of the action later on. While not the main character, he will be central to the plot and playable alongside the trio of youngsters.
Gears 4 is built on the same third-person, cover-based gameplay but introduces new weapons and enemy types to keep things relatively fresh. Weather also plays an important part, with lethal storms affecting the game's environments and the effectiveness of the player's weapons.
Available with two-player online and offline co-op, Gears also includes a competitive multiplayer mode, and fan-favourite Horde mode, which this time includes class-based systems.
Gears of War 4 is part of the Xbox Play Anywhere program, so whether you buy it on Xbox One or Windows 10 on 11 October, you'll own a copy on each with cross-save compatibility.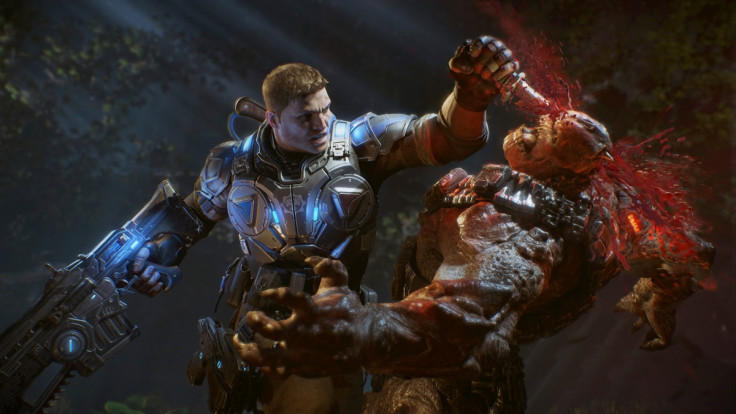 For all the latest video game news follow us on Twitter @IBTGamesUK.