Microsoft has lifted the lid on Gears of War 4, the much-anticipated return of Epic Games' third-person franchise, now under the guidance of new studio The Coalition. The first Gears game in four years was revealed at Microsoft's E3 press conference last year with an unexpected gameplay demo.
Gears of War 4 is set 25 years after 2011's trilogy concluder (a spin-off followed in 2012) and stars a trio of new heroes – Kait Diaz, Delmont Walker and leading man JD Fenix (pictured below right), son of original trilogy protagonist Marcus Fenix. The new info was revealed by Game Informer.
Gameplay-wise, fans can expect the same cover-based gameplay and co-op play, with the added benefit of two-player local co-op – a rarity in big-budget titles nowadays, and a welcome addition for fans. Gears 4 is certain to have online co-op as well, but the exact nature of it has yet to be revealed. Weather systems will also play a crucial part in gameplay, and can be used to a player's advantage.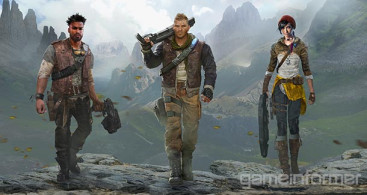 The world of Gears 4 has been greatly affected by the climax of Gears 3, and the end of humanity's war against the Locust. The imulsion weapon detonated at the end of that game killed off the planet of Sera's fossil fuels and created devastating storms, making humanity an endangered species now living in walled-off cities to protect against the storms.
These storms factor into gameplay, with four categories of storm that affect weapons – with the wind behind you can throw grenades further for example – and the game's new enemies, The Swarm. The game's heroes believe the Swarm may have originated from the mass graves the Locust were dumped in following the first trilogy's war.
New gameplay elements include the ability to create "dynamic cover" (for example, shooting down pods), a short distance shoulder charge and the ability for enemies to pull you out of cover. Multiplayer is also being given a much bigger focus than previous games, with The Coalition saying they want to meet the needs of more casual players, as well as the eSports community.
A beta will take place sometime in spring. There are also hints that the fan-favourite horde mode will return.
Gears of War 4 is slated for released later this year.
For all the latest video game news follow us on Twitter @IBTGamesUK.