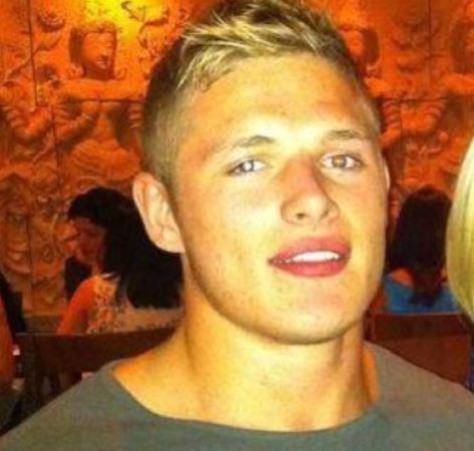 Naked pictures of British rugby league star George Burgess are causing a stir online.
The Daily Telegraph claims the uncensored pictures of Burgess, who plays in Australia, have circulated on the micro blogging site and also made their way to a gay porn site.
Meanwhile Twitter has been abuzz, with users reacting to the images of Burgess, who was born in Dewsbury but plays for the South Sydney Rabbitohs.
"@antsharwood If I looked like that I'd post a photo too. Steve Roach on Ten News talking about the George Burgess nude pic. Leaguies just don't get it".
"@MrsBrill The pain of watching the Katie Hopkins interview has been washed away by sight of the selfie of George Burgess kindly put on the WWW".
"@charmingkensho @burgessgeorge amasing pictures. Whow. You are so handsome what a man".
"@alexcairnx Everyone is so dropjawed about George's schlong they havent noticed the shazam on his chest in the full frontal pic".
"@Mariusdownunder you'll have someone's eye out with that George Burgess...or put a smile on most women/gay men's face #selfies #rabbitohs #GeorgeBurgess".
"@monsterjordy I have had so much attention all day thanks to George Burgess' nude photos. Love a good, naked NRL player".
"@hannahcollector Twitter on my phone blocks pictures of 5SOS but allows naked pics of George burgess logic/10".
This comes after the 21-year-old was charged with two counts of wilful damage after he threw a street sign through the back window of a vehicle following the Rabbitohs' match against Gold Coast in Cairns in June.
The charges against him have now been dropped - although Burgess has been fined, ordered to attend anger management counselling and take part in a community support programme.
"George accepts he's done the wrong thing and that there has to be a price," Rabbitohs chief executive Shane Richardson said. "For someone on his contract level it is a big price to pay and he still has to deal with the issue in court.
"We will support him because he has faced up to what he has done and because this isn't reflective of his general behaviour at the club.
"Everyone is going to have to get the message though that the NRL is going to stay strong on these issues and that the clubs will support that stance without exception."