George Clooney Responds to Daily Mail 'Lies' Saying Paper is 'Inciting Violence'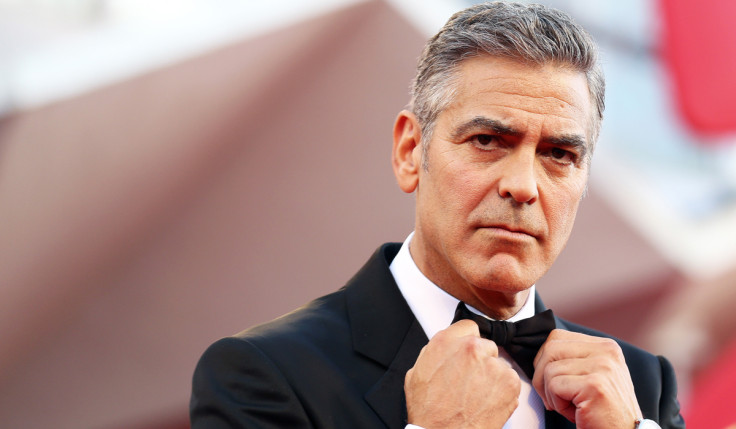 George Clooney has responded to a Daily Mail report about his mother-to-be in sensational style, taking the notorious paper to the cleaners in an article written for USA Today.
The Mail had reported that Baria Alamuddin, the mother of Clooney's fiancé Amal Alamuddin, had been declaring her dissatisfaction with the marriage, allegedly telling her friends in Beirut that her daughter could do better and her wish for her to marry within the Druze religion.
Only, it was all lies.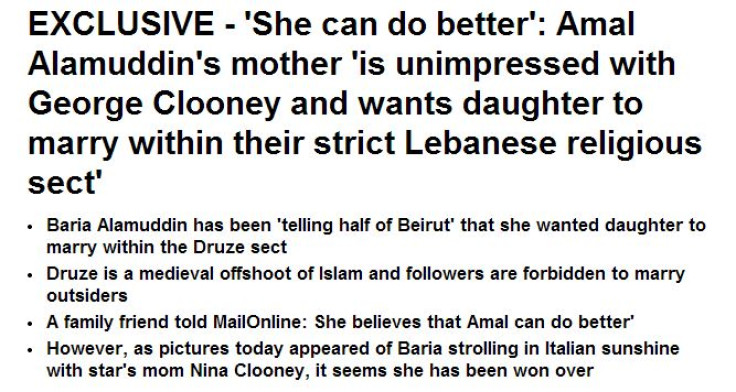 Mail Online's original story
Mail Online
Incensed by the fabrication, 53-year-old actor Clooney fought back, penning a measured and dignified response.
"The Daily Mail has printed a completely fabricated story about my fiancée's mother opposing our marriage for religious reasons," he said. "It says they joke about traditions in the Druze religion that end up with the death of the bride.
"Let me repeat that: the death of the bride."
Clooney then went on to clarify some of the falsities of the story. "Amal's mother is not Druze. She has not been to Beirut since Amal and I have been dating, and she is in no way against the marriage."
The Ocean's Eleven star then started to attack the paper's limited credibility and declaring how little he cares when the paper prints less harmful stories about him. "If they fabricate stories of Amal being pregnant, or that the marriage will take place on the set of Downton Abbey, or that I'm running for office, or any number of idiotic stories that they sit at their computers and invent, I don't care.
"But this lie involves larger issues. The irresponsibility, in this day and age, to exploit religious differences where none exist, is at the very least negligent and more appropriately dangerous. We have family members all over the world, and the idea that someone would inflame any part of that world for the sole reason of selling papers should be criminal.
"The Daily Mail, more than any other organisation that calls itself news, has proved time and time again that facts make no difference in the articles they make up. And when they put my family and my friends in harm's way, they cross far beyond just a laughable tabloid and into the arena of inciting violence.
"They must be so very proud."
© Copyright IBTimes 2023. All rights reserved.