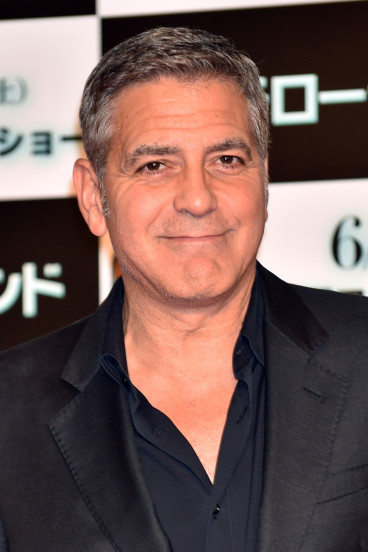 George Clooney has encouraged men to avoid seeking out cosmetic surgery and quick fixes, such as dying their hair to maintain a youthful appearance, but rather stop "trying to fight" the ageing process and accept and embrace the way they look as they grow older.
The Tomorrowland star confessed in an interview for BBC Radio 4 that he has a very relaxed approach to how he looks nowadays and thinks that "for all of us, you have to come to terms with getting older and not trying to fight it."
Talking to presenter Jenni Murray, the 54-year-old, whose silver grey hair has long been somewhat of his trademark, advised: "You have a couple of options, which is get older, or die.
"And so you have to get used to the idea that your roles in films and who you are and how you're perceived is going to change."
He rounded off his statement by saying that "that will disappoint people at times."
When Murray asked whether he had ever altered his looks by means of plastic surgery or other cosmetic means, the Gravity actor replied: "Clearly I haven't. For me, it's never been an issue or an option. I don't think it would make much sense quite honestly."
He continued to say that he doesn't "think it really works" and that he believes, through seeing it happen, that "it actually makes you look older.
"I'm a big believer in the idea that you can't try to look younger. You just have to look the best you can at the age you are."
Last year, Clooney beat the likes of Daniel Craig, Brad Pitt and Johnny Depp in a poll to decide which Hollywood actor has fared best in appearance over time. The winner of the Man Aged Gracefully – colloquially known as MAG, contest was voted upon by 1,000 participators for the Crown Clinic hair transplant centre in Manchester, who triumphed Clooney over 40 other men, saying that he gained himself extra marks for not dying his hair and "looking happy in his skin."
Clooney currently stars as a "55-year-old has-been" in the the newly-released Disney film, Tomorrowland, in a role that director Brad Bird specifically wrote for him almost two years ago. Reminiscing about when he first read the script, Clooney laughed that his initial reaction to the character's description was: "Thanks! You thought of me, did you?"