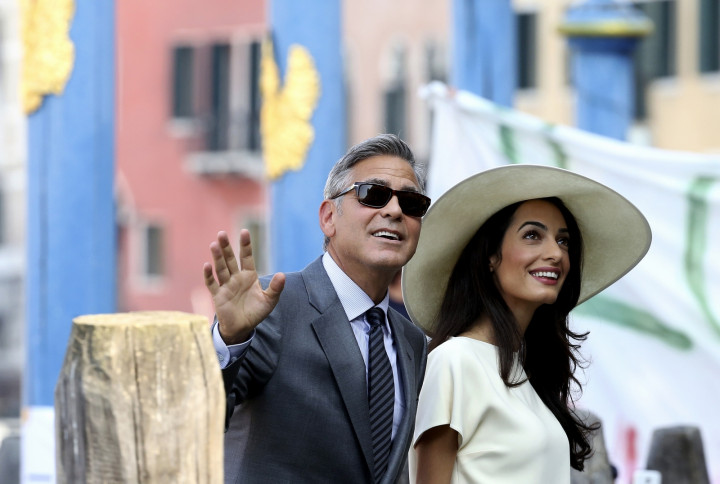 George Clooney's new in-laws are planning a lavish wedding celebration for guests who could not attend the actor's well-publicised wedding to international human rights barrister Amal Alamuddin in Venice.
Baria and Ramzi Alamuddin are believed to be hosting a party at Danesfield House Hotel near Marlow in Buckinghamshire.
The hotel, which is a few miles away from Amal's parents' home, is on lockdown for 24 hours, and staff have been ordered to hand in their mobile phones to ensure that no details of the event are leaked to the media, Sky News reports.
A marquee has been erected in the hotel's 65-acre grounds, which are accessible by helicopter for guests who do not want to drive.
An on-site Michelin-starred chef is expected to cater for guests, and there is also a spa for those who want to unwind after the festivities.
Entertainment journalist Ashley Person told Sky News: "By all accounts, Amal's parents are rather traditional and they wanted to throw a wedding for their daughter as most people planned to do.
"There's every belief that her parents are footing the bill for this party, despite the fact that she is now married to a multi-millionaire.
"This is for their friends, their family friends as well as Amal's colleagues who couldn't make it to Venice."
The event is expected to be much more private compared to the extravagant Italian wedding that attracted the glare of the world's media last month.
Amal's mother Baria told The Telegraph: "We are all very happy. People keep asking us about the wedding and about Amal and her husband. I suppose we'll have to get used to it. I guess we're famous now."
Speculation is also rife that A-list stars that missed Clooney's nuptials in Italy, such as Brad Pitt and Angelina Jolie, may be attending the party.
A spokesman for Danesfield House Hotel declined to comment on whether the Clooneys had booked the hotel or release any details, saying it is a "strictly private occasion".