The godmother of Princess Eugenie has been reported to police after video emerged of her allegedly whipping an animal rights activist. Lulu Hutley, 56, joint master of the Surrey Union Hunt, was captured lashing out at the male saboteur while she was with riding with huntsmen in Bramley, Surrey on 18 February.
Activists from the Guildford Hunt Saboteurs group said they followed the riding party onto private land because they "suspected they were illegally hunting".
While confronting Hutley, the group filmed her appearing to hit one of the campaigners with a riding crop.
Collin Skilton, of Guildford Hunt Saboteurs, said: "The saboteurs followed them on private ground because they suspected they were illegally hunting.
"They were asked to leave and they tried to make their way back. Conor, the lad who was hit, got jammed between the fence and Hutley hit him over the shoulder with the whip."
The Surrey Union Hunt claimed the clip has been taken out of context and denied the allegations they were on an illegal hunt. A spokesperson added: "You can clearly see Lulu is holding the whip upside-down in order to hit the gate, not the person.
"She saw the protester was trapped between the horse and the gate and was trying to make a noise by banging on the gate to get the horse to back off."
"It was quick thinking by one of our Masters in a dangerous situation and it's terribly sad it's being misrepresented.
"As always, we were following an artificial scent trail, and indeed the protesters would have seen this being laid down by a rider earlier."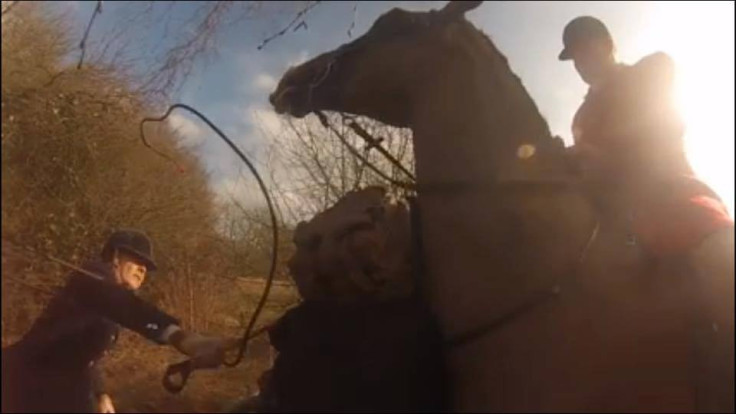 Surrey Police confirmed they have received a report of common assault at a hunt in Bramley but no arrests have been made.
A spokesperson added: "Officers were called following reports of an incident near Thorncombe Street around 1.30pm. A man alleged he was assaulted by a man and a woman following a verbal altercation. An investigation is underway and enquiries remain ongoing."