Pablo Picasso's masterpiece Les Femmes d'Alger (Version O) broke the world record for highest price for a work of art sold at auction, going for an impressive $160m (£102.7m) at Christie's New York.
The 1955 oil painting, which sold to an unknown buyer for a final price of $179.3m with Christie's commission, was part of the "Looking Forward to the Past" auction on 11 May . The work was previously auctioned in 1997 for $31.9m, Reuters reported.
According to Christie's, Picasso's painting edged out the previous holder of the world record, Francis Bacon's Three Studies of Lucian Freud, which sold at Christie's in 2013 for $142.4m (£95.5m).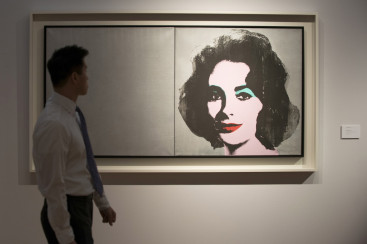 Two other Picassos were sold during the New York auction, including the his Buste de Femme for $60m and Femme Assise for $3.7m. Five other works by the Spanish painter and sculptor were sold on 5 May at Sotheby's Impressionist & Modern Art Evening Sale, including his 1948 oil painting Femme Au Chignon Dans Un Fauteuil for $29.9m.
Works by American painter Andy Warhol were also sold at Christie's. Warhol's silkscreen on canvas Silver Liz netted an impressive $25m, while his other silkscreen ink on canvas Five Deaths on Turquoise took home $8.6m.
Alberto Giacometti's 1947 sculpture L'homme au Doigt was sold for $141m, breaking the world record for sculpture sales. According to Reuters, the previous sculpture record was $104.3m by Giacometti's L'Homme qui marche I in 2010.
Reuters reported that "Looking Forward to the Past" sale earned an estimated $500m for the 35 works auctioned.