Gone in 60 seconds: Mercedes thieves 'tricked' car to open without key
Police yet to recover Mercedes after thieves used ingenious technique to steal it off drive.
West Midlands Police are yet to recover a Mercedes that was stolen by thieves who "tricked" the car to deactivate its locks.
Investigators have released video footage showing the car being stolen from a drive in Solihull in September. It shows the two men arrive at the home in a car before one of them approaches the front door with a relay box.
He then waves the device at the front door of the house, which receives a signal from the key inside and transmits it to the second box next to the car.
The car's systems are then tricked into thinking that the key is present and so it is unlocked. The thieves then drive off, with the whole crime taking just one minute.
The devices are capable of receiving signals through walls, doors and windows, but not metal and allow thieves to drive off in vehicles without needing to even see the owner's keys.
Police say the footage is the first 'relay crime' caught on camera in the West Midlands.
Mark Silvester, from the West Midlands Police crime reduction team, said: "To protect against this type of theft, owners can use an additional tested and Thatcham-approved steering lock to cover the entire steering wheel.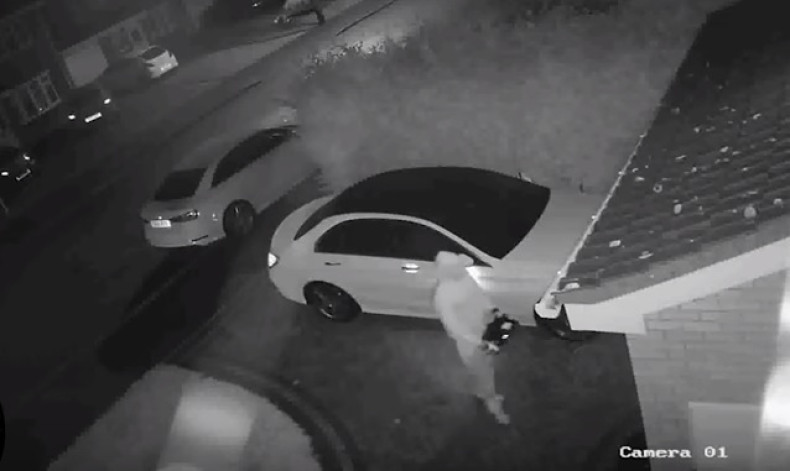 "We also recommend Thatcham-approved tracking solutions fitted to the vehicle. It is always worth speaking to your main dealer, to ensure that your car has had all the latest software updates and talk through security concerns with them."
Sgt Tim Evans, from Solihull Police, said: "It's important the public are reassured that we are taking proactive steps to tackle this type of crime in Solihull.
"We hope that knowledge of this type of crime will enable members of the public to take simple steps to secure their vehicle and assist us."
Anyone with information on the Elmdon theft should call police on 101, quoting crime reference number 20SH/204842W/17.