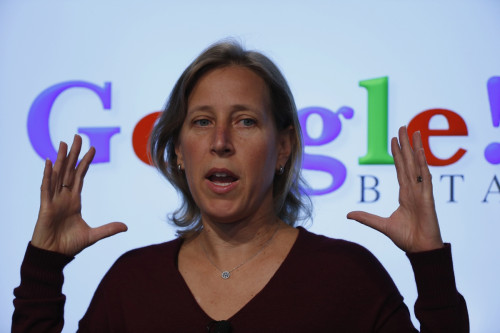 Internet giant Google has named Susan Wojcicki, a senior vice president for advertising and commerce, as the head of its video streaming division, YouTube.
The appointment of Wojcicki, the most senior woman at Google, is in line with the company's goal to generate more ad revenues from its video service.
Salar Kamangar, who was leading YouTube since co-founder Chad Hurley left the company in 2010, is expected to take another role within Google.
"Salar and the whole YouTube team have built something amazing. YouTube is a billion-person global community curating videos for every possibility. Anyone uploading their creative content can reach the whole world and even make money. Like Salar, Susan has a healthy disregard for the impossible and is excited about improving YouTube in ways that people will love," Google CEO Larry Page said in a statement.
Wojcicki joined Google in 1999 as the 16th employee and served as the search engine's first marketing executive. Founders Larry Page and Sergey Brin initially ran the company out of her garage in Menlo Park, California.
At Google, Wojcicki has overseen product management of AdSense, Google Book Search and Google Video as well as the syndication of the company's products.
The new appointment gives her chance to run an independent business at Google. She has been sharing her job with Sridhar Ramaswamy, also a senior vice president for advertising and commerce.
Ramaswamy will run the ad business for Google going forward.
Overhauling YouTube
While Google has never given out the financials of YouTube, tech research firm eMarketer estimated the site's ad revenue at $5.6bn (£3.4bn, €4.1bn) for 2013.
YouTube attracts more than a billion visitors per month, with more than 40% of traffic coming from smartphones and tablets.
Analysts had criticised that Google for not effectively promoting its ads business on YouTube despite its popularity.
The latest move is a sign that Google is focusing more on advertising at YouTube. Wojcicki is expected to implement the strategies used in Google's incredibly profitable advertising. She had also developed successful new ad types for shopping and mobile.
In 2006, she pushed hard for Google's $1.65bn risky acquisition of YouTube, and is known for her affection for the service.