Interior of Google's £1 billion London headquarters shown off with new set of computer renders from British architect.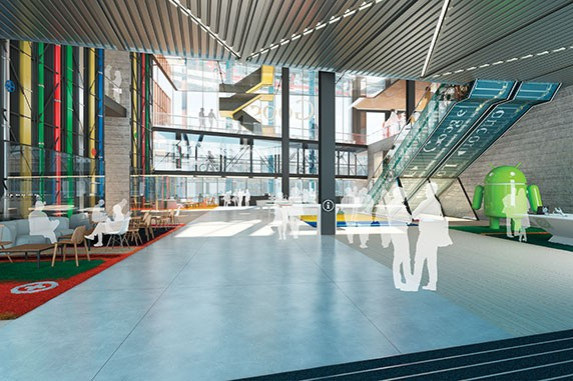 Scheduled to open in 2016, the campus is located between Kings Cross and St Pancras railway stations, and will feature an open-air swimming pool, indoor football pitch and a climbing wall.
Announced in January, Google's £650m purchase of the 2.4 acre site was one of the biggest ever commercial property acquisitions in the UK, and the campus is set to be worth £1bn once completed.
Known as Googlers, Google staff can cycle into the building along purpose built paths and into the 20,000 square foot cycle shed - the size of a large house - complete with lockers and showers.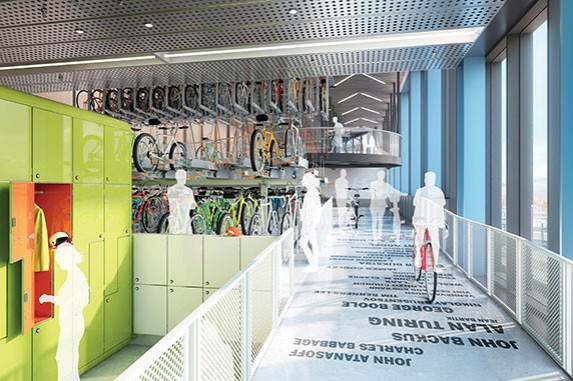 Simon Allford of Allford Hall Monaghan Morris, the London architects building the campus, said: "The idea is that the people who are in the building - not the tenant but the actual staff - need to be attracted to the building. They need to like the community of the building," reports Quartz.
Anyone familiar with Google's other offices around the world will recognise the London building's interior design, complete with brightly coloured fixtures and fittings, extensive use of glass, and the occasional 7ft Android robot.
The 11-storey building will measure 330 meters (1,082 ft) from one end to the other, making it longer than the Shard is tall, and will hold 4,500 staff, more than twice the number of Google employees currently in London.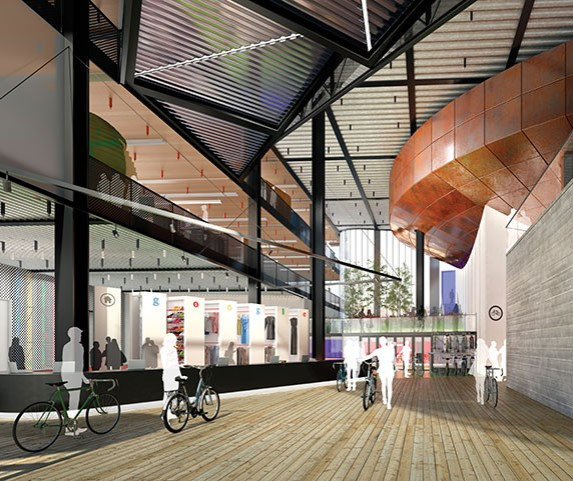 Kings Cross Central
The building is part of a development called King's Cross Central, which sits on a former fish, coal and grain goods yard to the north of central London and once completed will cover 67 acres with homes, offices and shops.
The Kings Cross regeneration project is expected to generate around 35,000 jobs and more than 1,900 new homes.
Being located at Kings Cross means the building is close to the Central Saint Martins art school, the Francis Crick Institute biomedical research centre, due to open in 2015, and the British Library. The Guardian newspaper is also based nearby.
Allford said: "The point is if there's 3,500 students, they [Google staff] might form a relationship with Central Saint Martins. You come to a city to meet people who aren't like you, who are different and have different ways of seeing the world....Taking that idea of life into the building and social space and what Google call positive friction, you want people to get to their desk and do work, you want them to get around, but you don't want them to miss each other."
The architect describes the campus as a theatre with its stage and props. "The building is the theatre. It lasts 100 years. The stage set is the auditorium. It lasts 20 years and is a building within the building. The props are the little meeting rooms, the furniture...which ideally you could reconfigure overnight."