Google has just refreshed its native Maps app for iOS and Android with Google Maps 3.0 that brings a handful of new features including provision for saving offline maps, lane guidance for turn-by-turn navigation, Voice Search, Uber Integration and more.
Save Offline Maps for Future Use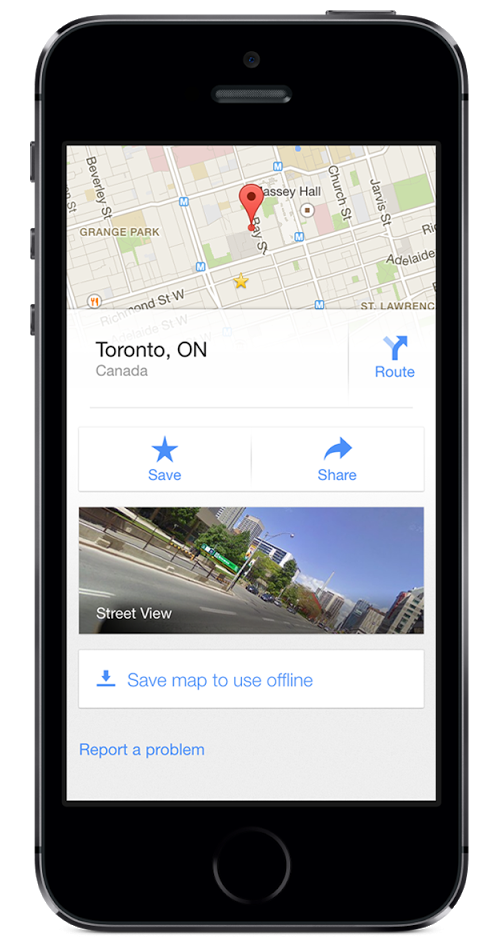 The new Google Maps update introduces the ability to save maps offline and access them for subsequent uses without internet connection, which is a major advantage over Apple's integrated Maps.
The new Google Maps 3.0 version is now available for free via App Store and offers the ability to sync saved maps across multiple devices.
For instance, to save an area for later use, search or navigate to the location on the maps and then tap on the bottom bar to pull up the info sheet. Now, tap on the "Save map to use offline" button and then add a custom name including area name while saving the map.
Here is Google's official description for offline mode:
Don't worry if you're not online. Before setting off on your next vacation, hike, or roadtrip, search for an area and tap on its place info sheet, then when available, you can select "Save map to use offline," and give your map a custom name, like "Toronto Vacation."

To find your offline maps, sign-in, tap the profile icon next to the search box in the top right corner, and scroll to see "Toronto Vacation" and other saved maps.

Note: It is advisable to try saving maps only after checking the list of available countries that support this feature as it is region dependent.
Lane Guidance and Turn-by-Turn Navigation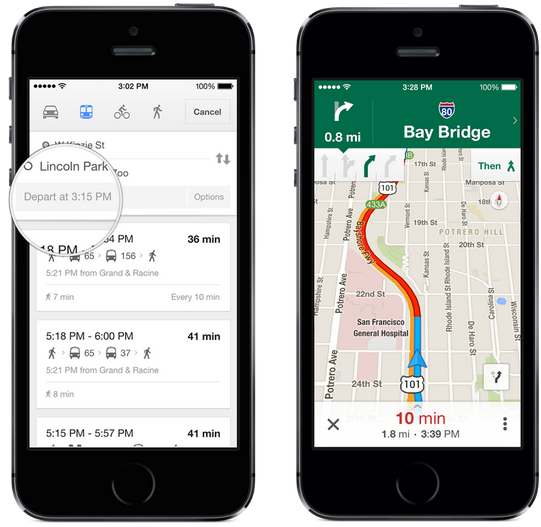 Google Maps 3.0 teaches you to stay on a specific lane while approaching an intersection to avoid missing a turn or travelling along the wrong route for long distances.
In addition, the new update also lends the ability to dynamically view and switch to alternative routed in case of traffic jams or other hassles on the road.
Note: This feature is currently limited to US, Canada and Japan.
Improved Transit Results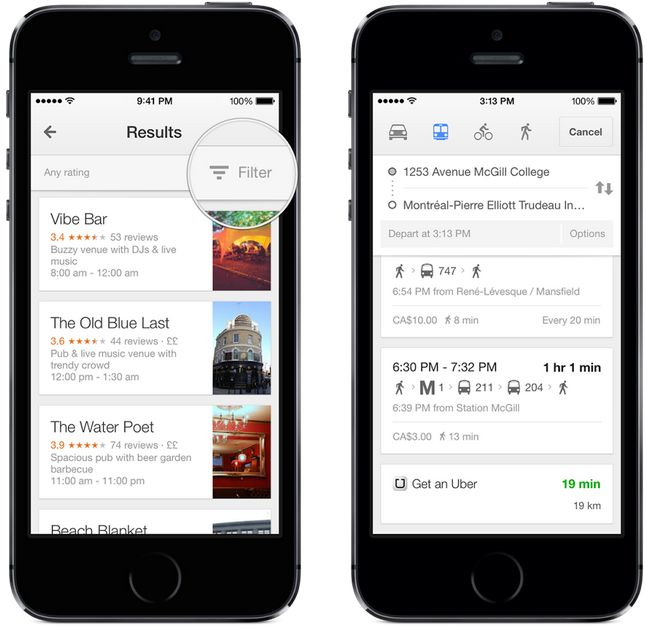 The app now allows users to enter date and time of departure in the transit results to help narrow down the search, while also displaying total walking time for the current trip as well as the next scheduled bus or train.
Note: Some of these features provide restricted access to logged in users only, which means users need to login to view places previously visited and saved on Google Maps or access the 'Places to review' list across all devices.
Among other features, filtering restaurants, bars and hotels by rating, price, opening hours, Uber integration and more are supported along with comparison details of transit price, distance and walking directions for selected cities.
Here is the complete Changelog for Google Maps 3.0:
• Turn-by-turn navigation now gives lane guidance and quick access to route overview (US and Canada only)
• View travel time, distance, and estimated arrival all at once in navigation mode (US only)
• Save offline maps to a custom list for when you're traveling or have a slow connection
• Transit results now display total walking time of your trip and the next scheduled bus or train
• Filter search results for restaurants, bars and hotels by rating, price, opening hours, and more (US only)
• Sign in to see your "Places to review" list from recently saved or searched-for places
• If you have the Uber app installed, open it right from Google Maps when comparing route options
• Access your iPhone or iPad contacts directly from the Google Maps app
• Tap and hold anywhere on the map to drop a pin, save and share that location
• Search without typing using Google Voice Search
• Scale bar to estimate distances on the map
Download Google Maps for free via iOS App Store.