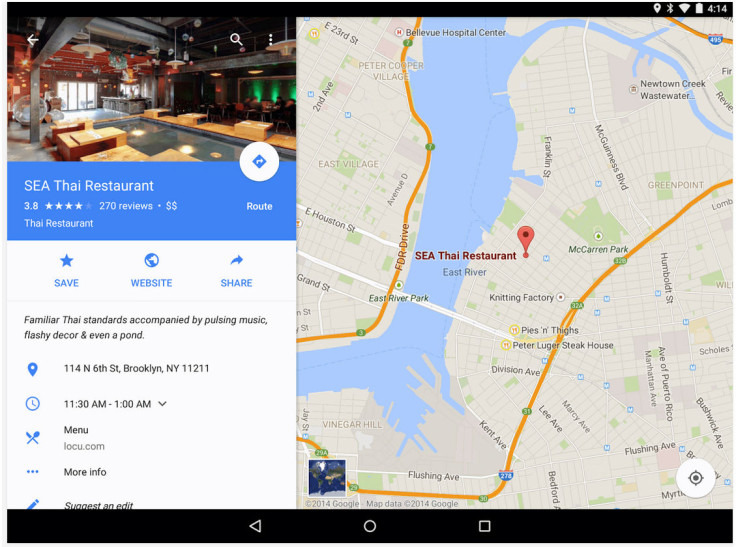 Internet giant Google has updated its official Maps app applicable to Android smartphone users, and the newest feature can be checked out by downloading Google Maps for Android from the official Play Store.
Click here to download Google Maps for Android, from Google Play.
What's new?
Google has incorporated a new feature that now lets users filter results based on personal information such as hotel reservations, flight bookings and the like.
To access this in a single tap, users would need to type out a search query such as my events, post which a list of personal activities is thrown up. This information includes vitals such as flight/hotel bookings, ticket reservations etc.
Users can also query in my events, in the form of a voice command and check out a robotic voice reading aloud vital details.
The my events command is a generic one and displays a list of all personal vital business information of users. To access specifics, Android users can type-in/speak-out command such as my reservations, my flights which will display results filtered on these queries.
On paper, the above feature seems to be custom-made for business users who generally face hassles in keeping track of flight status, hotel reservations etc.
Android users can check out the new my events feature and let us know how it functioned, in our comments section below.
Apart from my events, Google Maps provides the generic functionality set mentioned below to Android users:
• Comprehensive, accurate maps in 220 countries and territories
• Voice-guided GPS navigation for driving, biking, and walking
• Transit directions and maps for over 15,000 towns and cities
• Live traffic conditions, incident reports, and automatic rerouting to find the best route
• Detailed information on more than 100 million places
• Street View and indoor imagery for restaurants, museums, and more.