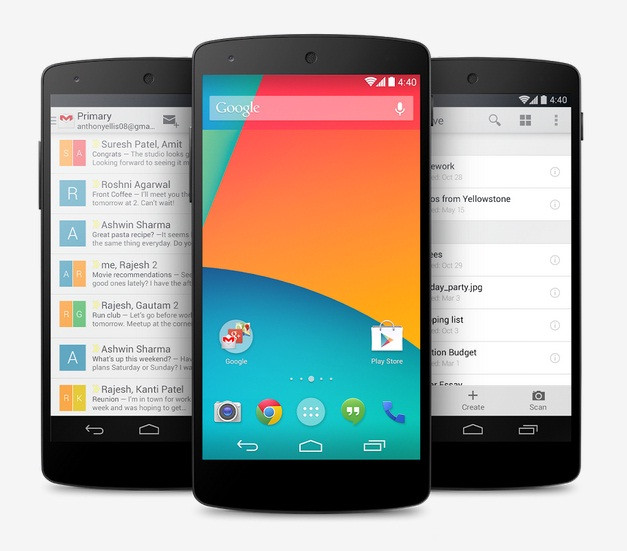 Over the last few weeks, there has been a lot of buzz about LG's next big Android flagship smartphone, the LG G3.
Back in 2013, Google joined forces with LG and built the Nexus 5 based on the LG G2 smartphone. Since that partnership went well, there is a chance that the two companies might join forces yet again to bring out the purported Nexus 6.
Keeping this assumption in mind, there is a good chance that the Nexus 6 and the recently leaked LG G3 might share many of the same base specifications, just like how the Nexus 5 and LG G2 did. Owing to this, here are three specs that the Nexus 6 is most likely to ship with.
In-House Processors from LG
A recent development from South Korea seems to imply that LG "will be mass-producing application processors soon." Adding weight to this claim is the Korea Herald which says this information has been confirmed by an LG representative, and that related developments will follow soon.
"The processors ... could be embedded in LG's next smartphone - the G3," the publication's report said.
This means that the handsets might not feature the latest offerings from Qualcomm's Snapdragon line of processors like the Nexus 5 did.
2K Display Resolution
According to TheVerge, LG has already confirmed that its 2014 flagship Android smartphone will sport a display panel with a gorgeous 2K screen resolution. The company also added that the display will be cased in a 5.5-inch profile and will boast a resolution of 2560 x 1440 pixels.
Amazing Native Imaging Features
Earlier this week, Google launched a new standalone camera app for Android and it can be picked up at the Google Play app store. It packs some amazing features including abilities like Lens Blur and Photo sphere. The app is also expected to add features like Advanced Camera Mode, Time Lapse Mode, and Wide Angle Mode with future updates.
It is expected that the Nexus 5 will offer all these features and something extra during the time of its launch, allowing it to boast some amazing shooting abilities.
Release Date
Google is expected to stick with its launch cycle for Nexus phones, which involves a launch in October or November, just like it did with the Nexus 5 (October 31, 2013) and the Nexus 4 (November 13, 2012)