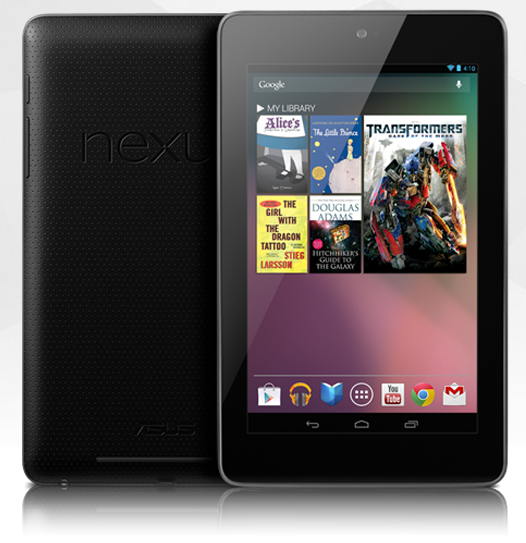 Nexus 7 has faced supply shortages ever since its release in the UK, owing to overwhelming demand for Google's flagship tablet. An earlier IBTimes UK report sheds light on pre-order customers' woes, as stocks started running out across most retail stores with online stores being the only option left for some.
Thanks to Carphone Warehouse, the UK customers can once again lay their hands on the coveted tablet with power-packed features. Nexus 7 is now available for free through Carphone Warehouse from Friday, 27 July. The offer requires the customer to sign a tethering contract for the billing plan - £20.5 per month. The flagship tablet may also be purchased as a standalone product at £199.99 for the 16GB model by visiting the retail store, online store or simply by dialling telesales number - 0870 870 0870.
The 7-inch Google tablet flaunts a HD multi-touch display with 1280 x 800 pixels resolution screen, besides supporting a gyroscope and an accelerometer. The display also features a scratch-resistant Corning Gorilla Glass coating that protects the screen from surface damage. With due credit to Nvidia's powerful Tegra 3 quad core processor and a slick Android 4.1 Jelly Bean platform, both multitasking and gaming is a breeze on this device.
"It's interesting to see that despite larger 10 inch tablets dominating the market, Google is forging ahead with its own 7 inch model. A smaller tablet has yet to prove itself in a category dominated by bigger screens, but if anyone can make it happen, Google can. I'm sure the other leading tablet manufacturers will be watching closely and be ready to follow suit in the coming months," says, Graham Stapleton, Chief Commercial Officer at Carphone Warehouse, in a press statement.
Earlier, disappointed fans reportedly took to forums venting their ire on the non-availability of Nexus 7 device through Google.
"I'm heading off to the Gordon House Surgery in Ealing, reckon they will have an entire skip full of Nexus 7s by the end of today," said one customer on XDA Developers forum.
"Currys are delivering my order [that I] made yesterday tomorrow evening so I don't want have to worry anymore about this Google shambles. Not sure I'll order any device off the play store again!" swore yet another.
Thanks to Google and relentless efforts of major retail vendors in UK, the premium flagship tablet - Nexus 7 - is once again in stock at Google Play Store as well as Carphone Warehouse.