Google Nexus 9 Review: Meet The First Android 5 Tablet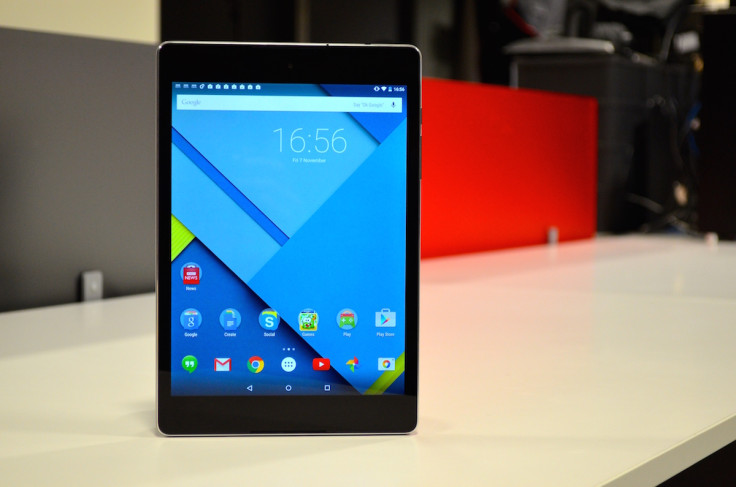 Key Features
Android 5.0 Lollipop
8.9in screen with 1536 x 2048 resolution
Nvidia tegra K1 processor
16/32GB storage
Price as reviewed: £319 (16GB)
Google Nexus 9 Review
The Google Nexus 9 is a tablet produced by HTC and is the first device to ship with the all-new Android 5.0 Lollipop operating system. It's priced exactly the same as the iPad mini, but with a larger screen and Google's serviced baked in, is this the mid-size tablet for you?
Google Nexus 9 Review: Design
When I heard HTC would be producing the next Nexus tablet I excitedly hoped that a larger one (M8) was in the works. Unfortunately, the Nexus 9 doesn't quite live up to the gorgeous design of HTC's flagship phone. That said, this is still a very well-made tablet with a smart metal frame and matte plastic back available in three colours. The exposed and metal-trimmed rear camera is a nice touch, while at 7.9mm and 425g the tablet is easy to hold comfortably in one hand - even if this means a bit of a stretch compared with Apple iPad mini 3.
The metal trim and oversize rear camera just about do enough to make the Nexus 9 stand out and be memorable, but I noticed the matte back (although nice to hold) was easily marked and scuffed when carried in my laptop bag for a few days.
Overall, I'm a fan of the way the Nexus 9 looks and feels. It's not the most revolutionary of designs, but it does enough to be different and its size means it fits somewhere between Apple's two iPads.
I wish the screen bezel, especially the wasted space above and below the display, were smaller, but at least it gives you space to rest your thumbs when watching a film. Just be careful you don't cover the dual front-facing speakers, which are louder than on most tablets, but easy to accidently cover.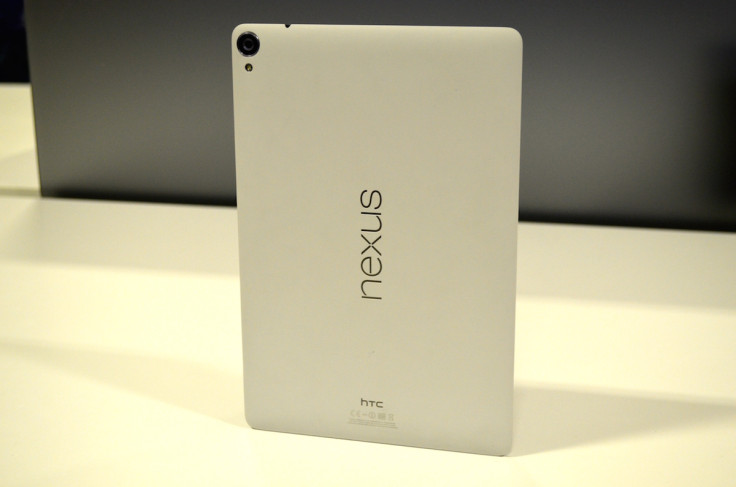 Lastly, the rear 8-megapixel (MP) and 1.6MP front cameras are fine; they do the job, but you really shouldn't expect much in anything less than perfect lighting conditions.
Google Nexus 9 Review: Screen
An 8.9in panel with a resolution of 1536 x 2048 means a pixel density of 281 per inch. It isn't quite as sharp as the iPad mini 3 or Air 2, but you'd be hard pressed to spot the difference; individual pixels on the Nexus 9 cannot be seen. Compared side-by-side, the Nexus 9 is brighter than the iPad mini 3, and produces slightly cooler colours, with whites appearing slightly more blue than the warmer shades on the Apple tablet.
It's a very good screen, and although some reviews mention a leaking backlight, I can only see the problem when viewing the tablet from wide angles and looking at the edges of the screen; put simply, you wouldn't notice during regular use.
Google Nexus 9 Review: Software and Performance
Being the first device to hit the UK with Google's new Android 5 Lollipop, this is where the Nexus 9 makes itself known. Incorporating the search giant's new Material Design philosophy, the user interface has been given a new set of flatter icons, a new notifications centre, new settings app, new multi-tasking menu and more.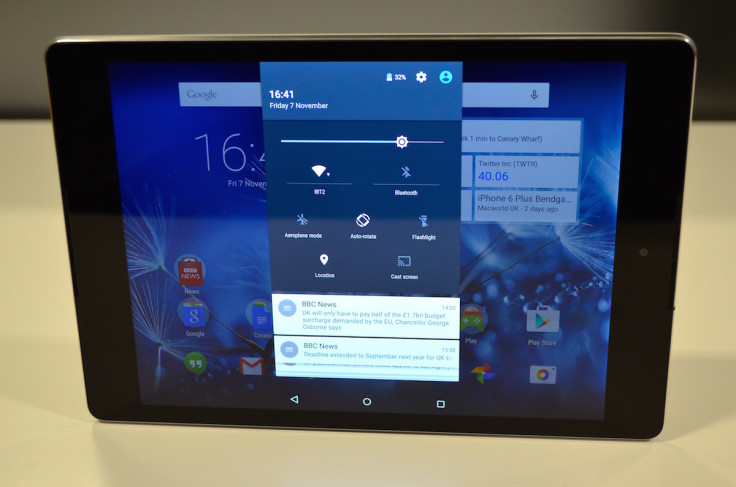 It's a wide-ranging update but one which is still unmistakably Android; this is unlikely to get the same Marmite love-or-hate reaction as Apple received with the quantum leap to iOS 7 last year.
Notifications now look much neater, settings are simpler, and the multi-tasking menu is an attractive rolodex of open apps rather than the dull grid of thumbnails it used to be.
A neat feature is how Android 5 devices communicate with smartwatches running Android Wear. When the tablet or phone sense your watch is nearby, it no longer requires a PIN or password to be unlocked, as it assumes you are the person wearing the watch registered to your device and Google account. It's a nice timesaving feature and a good demonstration of how Android and Android Wear can work well together.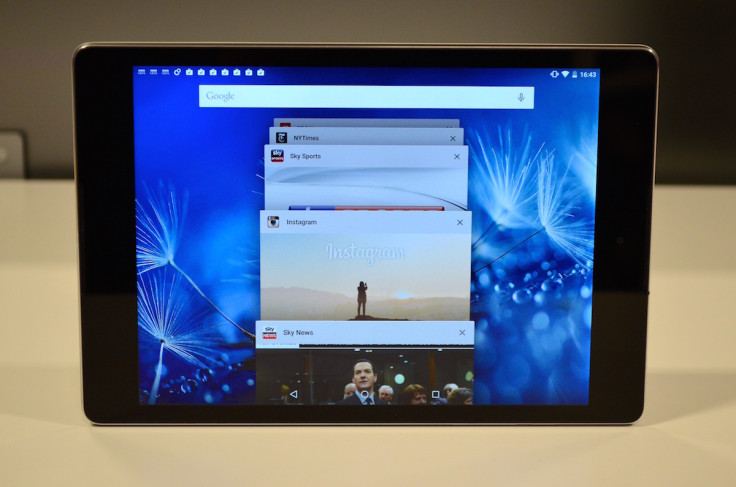 Google's apps have also been given a spruce up, with Gmail getting an all new design in keeping with the upgraded interface.
Performance is provided by a Tegra K1 processor by Nvidia. It's a 2.3GHz chip, quad-core chip with 2GB of RAM and promises to deliver knock-out performance. Unfortunately the Nexus 9 just doesn't feel that quick; apps can be sluggish open, the wallpaper often turned black for a moment when shutting apps down, and the whole experience generally felt rough around the edges. I'm hoping this is more to do with the software being new and due updates to iron out creases shortly, rather than a hardware problem.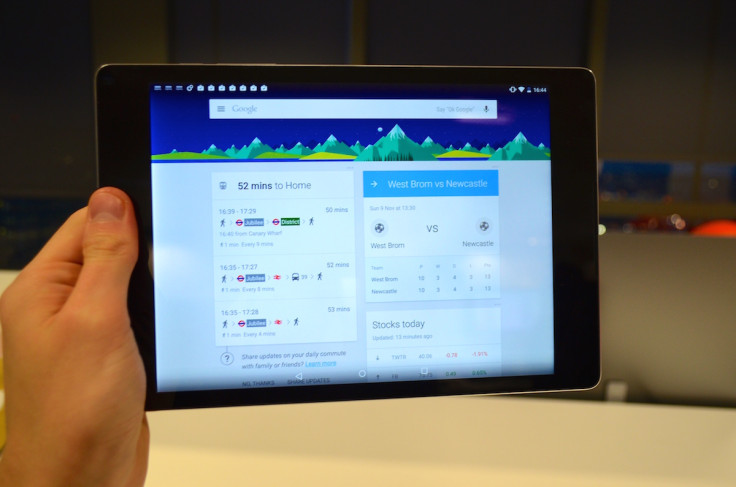 Large apps and intensive games open and play as well on here as they do on an iPad mini 3, but they feel less stable somehow, with the interface freezing slightly on boot up, and the wallpaper disappearing for a few seconds when closed. The tablet also gets quite warm on its back.
There are many good aspects to the Nexus 9 and Android 5 as a whole, I just hope the small performance issues can be cleaned up with a software update soon.
Finally, battery life is about on par with the iPad mini, so a weekend of average to heavy use shouldn't cause it too much trouble.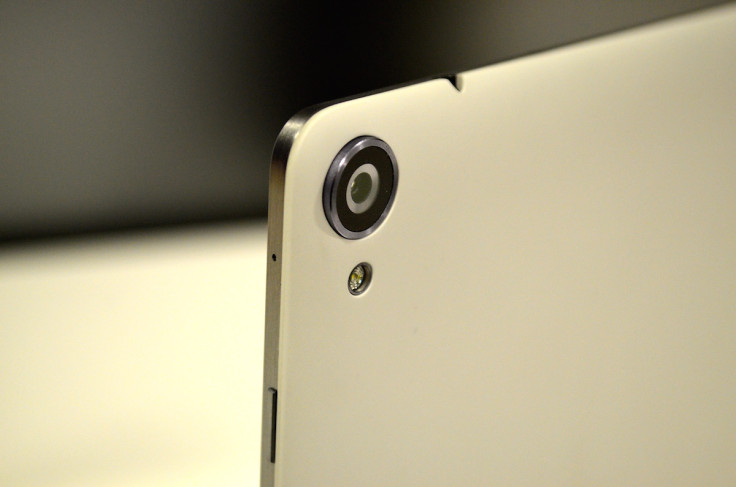 Google Nexus 9 Review: Verdict
The Nexus 9 is a strong combined effort from Google and HTC. It combines good (if not groundbreaking) design with the best version of Android yet, but falls short from perfection when it comes to storage and performance.
I'm confident that Google will find a fix to make Lollipop run more smoothly - the tegra K1 chip is no slouch, afterall - but the lack of a microSD card slot (and storage options above 32GB) is a real shame. When considering the £319 base model, it's just about on par with the 16GB iPad mini 3, but at £399 the iPad has double the storage of the Nexus.
Given the huge praise earned by the Nexus 4, 5 and 7 for being excellent value, the pricey Nexus 9 feels like Google saw a partnership with HTC as a fast track ticket to charging high-end prices.
This isn't a tablet version of the One (M8), and that's a great shame indeed.
Google Nexus 9 Review Scores:
Screen: 8/10 - A good size and resolution, with bright, accurate colours
Camera: 6/10 - They do the job and the rear one is a visual talking point, but that's about it
Software: 8/10 - A huge update for Android which is very welcome, but with teething problems
Design: 7/10 - Not as HTC-inspired as hoped, but attractive nonetheless
Overall: 8/10 - Google's closest shot yet at beating the iPad, but one which still falls frustratingly short
The Good:
Android 5.0 is a big, bold update
Solid build quality
Good quality screen
The Bad:
Some small software issues to fix
No expandable storage
Steeply priced for a Nexus
© Copyright IBTimes 2023. All rights reserved.