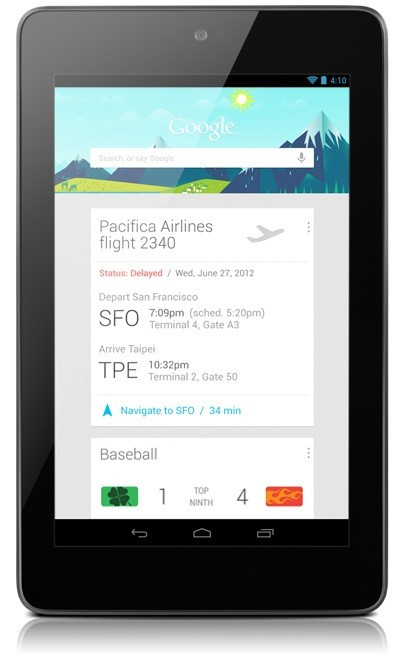 The Google Nexus 7 is a lightweight HD display tablet, with a quad-core processor and a front-facing camera, which Patrick Brady, the Director of Android Partner Engineering for Google, thinks can beat the Amazon Kindle Fire. In an interview with CNET, Brady revealed the team began working on the tablet in January.
"We wanted to build something inexpensive, but not cheap. It had to have fast processor and great screen resolution that our developers would want to use it. And we were looking to build a device that could showcase our digital content. We have built the biggest ebook store and we have got movies in Google Play. We have added TV and magazines. So we really wanted the perfect device to consume all of this and thought the 7in tablet was a good size," Brady explained.
The Google Nexus 7 runs Android's latest software - 4.1 (Jelly Bean) and should release in US, UK, Canadian and Australian markets in July.
Check out how the Google Nexus 7 does against the Samsung Galaxy Tab 7.7
Display: The Samsung Galaxy Tab features a 7.7in Super AMOLED Plus capacitive touchscreen. The display has TouchWiz UX User Interface (UI) and a resolution of 800 x 1280 pixels with a pixel density of 196 pixels per inch (ppi). The Galaxy Tab 7.7 has higher display resolution and pixel density compared to Samsung's other two 7in tablets - the Galaxy Tab 7.0 Plus and the Galaxy Tab 2 7.0. In addition, the tablet offers an impressive viewing angle. A display test by GSMArena revealed the Galaxy Tab 7.7 outshone both aforementioned 7in tablets and even the company's 10.1in model, the iPad 2and a few more. In fact, the Galaxy Tab 7.7 scored only slightly less than the Galaxy S2.
Google's Nexus 7 features a 7in LED-backlit IPS LCD capacitive touchscreen which is protected by scratch-resistant Corning Gorilla Glass. The resolution of the display, like the Galaxy Tab, is 800 x 1280 pixels. It has a higher pixel density - 216 ppi - which is still less than Apple's new iPad.
Dimension: The Galaxy Tab 7.7 measures 196.7 x 133 x 7.9mm whereas the Nexus 7 measures 198.5 x 120 x 10.45mm. Both tablets weigh 340g, making them lighter than their 7in rivals.
Operating System: The Galaxy Tab 7.7 was launched with Android 3.2 (Honeycomb). There are plans to upgrade the OS to Android 4.0 (Ice Cream Sandwich (ICS)), sometime in August.
The Nexus 7 will run Android 4.1 (Jelly Bean) and will be the first such device. The software update will bring a revamped User Interface (UI) and a better notifications system and home screen management, as well as an improved voice search, text input with offline voice typing, camera and enhanced Android Beam app.
Both tablets pack 1GB of RAM.
Processor: The Galaxy Tab 7.7 is powered by an Exynos dual-core Cortex-A9 chip clocked at 1.4GHz. The Nexus 7 will run on Nvidia's Tegra 3 quad-core processor which has a clock speed of 1.3GHz.
There are numerous benchmark tests on the web that suggest the latter is as powerful as Samsung's dual-core Exynos processor.
Camera: The Galaxy Tab 7.7 sports a 3.15 megapixel primary camera with auto-focus, LED flash and geo-tagging. The camera can record video in 720p at 30 frames per second (fps). The device also features a secondary camera of two megapixels.
The Google Nexus 7 will pack a 1.2 megapixel primary camera for video-calling. The camera can record video in 720p. The device will come without a secondary camera.
Connectivity: The Galaxy Tab 7.7 offers Wi-Fi 802.11 a/b/g/n, Wi-Fi Direct, dual-band, Wi-Fi hotspot and Bluetooth v3.0 with A2DP. The tablet supports data speed up to HSDPA 21Mbps and HSUPA 5.76Mbps.
The Nexus 7 will offer Wi-Fi 802.11 a/b/g/n, Bluetooth (the version is unknown) and Near Field Communication (NFC).
Incidentally, the Galaxy Tab 7.7 offers 3G connectivity and Google's does not.
Storage: The Galaxy Tab 7.7 comes in three memory configurations - 16/32/64GB - with microSD card support for additional storage. The Nexus 7 will have two models 8/16GB and without an option for storage expansion.
Battery: The Galaxy Tab 7.7 runs on a Li-Po 5100mAh unit, which can provide power for 12 hours on 2G and 11 hours on 3G networks. A test by GSMArena shows the Galaxy Tab 7.7 beats devices like the Motorola Droid Razr Maxx, the Galaxy Note and S2, HTC's Sensation XL and Apple's iPhone 4S.
The Nexus 7 will be powered by a Li-ion 4325mAh battery. The battery, Google claims, will provide nine hours of HD video playback and 10 hours of browsing and e-reading.
A battery test by Engadget, however, shows the Nexus 7 runs for slightly under ten hours but still manages to beat the ASUS Transformer Pad Infinity TF700, the Motorola Xoom 2, the Toshiba Excite 10 and a few more devices. It scored less than the Galaxy Tab 7.7 though.