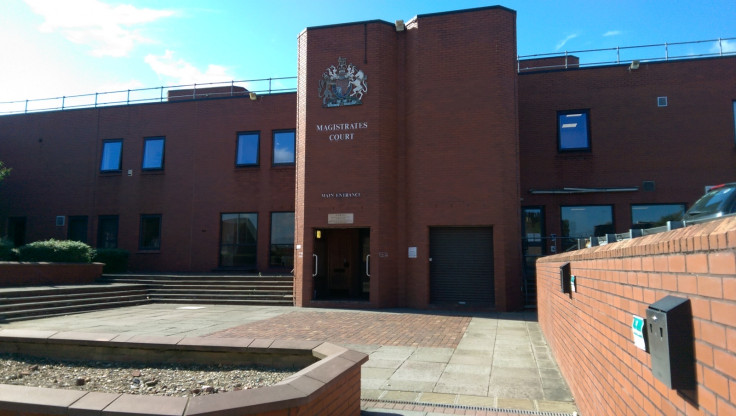 Sex scenes from the video game Grand Theft Auto 5 were described to a judge during the trial of three young boys accused of repeatedly raping a seven-year-old girl.
The schoolboys, who lived on the same residential street in Luton as the alleged victim, took turns to sexually abuse the girl over a period of just under two years, a court heard.
But a defence barrister appeared to probe whether elements of the girl's allegations were influenced by playing Grand Theft Auto 5, after it was claimed she had learnt about sex from a strip club featured in the game.
One boy even said the alleged victim had asked him to engage in sexual activity with her.
The court heard how the allegations first emerged in March of this year when the girl, now aged nine, told her mother she had been repeatedly raped by boys living in neighbouring houses since she was seven-years-old.
She said one of the boys, aged 11 at the time the alleged sex abuse started, threatened to stop her playing with her best friend (his younger brother) unless she complied with his "disgusting" demands.
He would take her into his bedroom, close the door and rape her, the court heard. His two friends, aged 10 and 12 at the time, were then said to have joined in the abuse on multiple other occasions.
Many of the alleged sex attacks were said to have taken place in two of the boys' bedrooms after school, while one alleged incident saw the young girl dragged from her back garden by the third boy and raped in a nearby alleyway.
The three boys, who deny all charges, were between the ages of 10 and 12 when the alleged sex abuse began in mid-2014. The girl said the ordeal continued past her eighth birthday up until March of this year.
The three defendants, who cannot be named due to their age, all appeared at Luton Magistrates' Youth Court this week for the start of their trial.
Prosecutor Alex Krikler said the sex abuse started when "[the second eldest boy] asked her to play with his willy". This escalated, he said, to include oral, anal and vaginal intercourse.
"She said sexual activity had been going on since she was seven-years-old.... She thought that it would stop," he told the court. "She wanted to tell her mother but was scared was going to be told off."
One sex attack happened as the girl was playing in her garden, Krikler said.
" [The eldest boy] grabbed her, took her to an alleyway and put his willy in her bum. She said he had learnt it from [another of the boys]."
But on the opening day of the trial on Monday (26 September), one of the defendants' barristers appeared to probe whether elements of the girl's story may have been influenced by the video game Grand Theft Auto 5 (GTA5).
The court heard how the girl had played the 18-rated game on her PlaySation after borrowing it from her father, and that she had "learnt about sex" from a strip club featured in the game.
Cathy McCulloch, defending the second eldest boy, now aged 14, asked the alleged victim's mother: "Are you aware in Grand Theft Auto 5 there's a sex room... and there are three men who take a girl in that room and take her up the backside?"
Other scene in GTA5 – a best-selling game notorious for its violent and sexual content – sees players tasked with photographing a female "celebrity" as a male character has sex with her from behind.
Another sees players attend a party in which a man can be seen having sex with a woman from behind in the bathroom. Strip clubs also feature in the game, with players able to pay for private dances.
The alleged victim's mother said she wasn't aware there was anything like that in the game.
While giving evidence, she spoke of being "in shock" after hearing her daughter recount the alleged sex abuse one day while at home.
"I couldn't believe what I heard her say," she told the judge, revealing she would regularly arrange for the girl to stay at one of the alleged abusers' homes when she was at work. "You don't want to believe that any one of them have done anything like this."
She revealed her girl had complained of having a sore vagina on previous occasions, but that she thought it was something like nappy rash.
'I feel upset when it happens'
The court was then played a video interview between the young girl and investigators after the mother went to the police.
She told of the disturbing details of how she would be repeatedly raped by the three boys and forced to give oral sex on more than a dozen occasions.
"I feel upset when it happens," she told the officers. "I feel really angry because I don't want to do it."
All three boys deny ever having any sexual contact with the girl, with the youngest, now aged 12, claiming she had at one point asked him to "do stuff with her" but he refused because he said it was "disgusting".
If found guilty, he could become the youngest convicted rapist in Britain, with the alleged abuse beginning when he was just 10-years-old.
All three are charged with having "intentionally penetrated the anus of a girl" with their penises on multiple occasions, while the two youngest are also charged with having "penetrated the mouth of a girl" with their penises on six occasions each. The youngest faces a further charge of "intentionally penetrating the vagina of a girl" with his penis.
One boy wore part of his school uniform to the proceedings, with his aunt next to him, while another arrived wearing school shoes and trousers with his father. The third, wearing home clothes, sat next to his mother.
The trio will appear again later this month when the trial is set to continue.